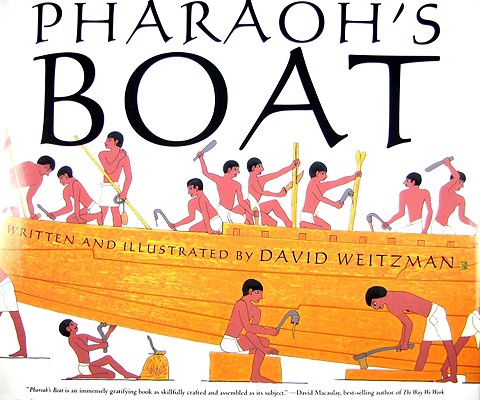 Pharaoh's Boat (Hardcover)
HMH Books for Young Readers, 9780547053417, 32pp.
Publication Date: May 18, 2009
* Individual store prices may vary.
Description
With poetic language and striking illustrations, Weitzman tells the story of how one of the greatest boats of ancient Egypt came to be built—and built again.

In the shadow of the Great Pyramid at Giza, the most skilled shipwrights in all of Egypt are building an enormous vessel that will transport Cheops, the mighty pharaoh, across the winding waterway and into a new world. Pharaoh's boat will be a wonder to behold, and well prepared for the voyage ahead. But no one, not even the Egyptian king himself, could have imagined just where the journey of Pharaoh's boat would ultimately lead .s.s.

About the Author
David Weitzman is the author and illustrator of OLD IRONSIDES, POURING IRON, SUPERPOWER, and THE PHARAOH'S BOAT. He lives in the mountains of northern California.
Praise For Pharaoh's Boat…
"[Weitzman] weaves the history, texts, mythology, and customs of ancient Egypt into an effective narrative, drawing readers in . . . The paintings' earth tones, accentuated by bright greens and blues, are both appropriate for the subject matter and pleasing to the eye; the boat becomes more complete with each turn of the page . . . Pharaoh's Boat offers a unique glimpse into a common activity in ordinary ancient Egyptian life (boat building) instead of being just another book about mummies and pyramids."--School Library Journal, starred review

"Weitzman . . . gracefully merges past and present as he describes the intricate steps of how the boat was first built—and rebuilt, so many thousands of years later. The flat illustrations in warm earth tones mirror ancient Egyptian reliefs; each panel shows stages of construction and tools in action. The author carefully labels every part, allowing readers to follow along as the boat is pieced together. Culminating in an expansive gatefold, the pharaoh's boat stretches wide. Both ship and story are a mastery of precise craftsmanship."--Kirkus Reviews, starred review

"Although Weitzman is perhaps best known for his work in black and white, the coloring in this book is as elegant as the line work, the pictures subtly using different styles to distinguish the two time periods. A map is appended; endpapers illustrating the panoply of Egyptian life will beckon readers in."--Horn Book

"Part mystery, part ancient history, this handsome book takes readers back in time . . . Skillful illustrations, many in the style of hieroglyphics, some in contemporary settings, demand attention. The typeface is small, but readers will be so intrigued it won't deter them from this fascinating mix of archaeology and technology."--Booklist, starred review

"This will be a standout selection amid the glut of mummy books, and no self-respecting young Egypt enthusiast will want to miss it. "--Bulletin
or
Not Currently Available for Direct Purchase