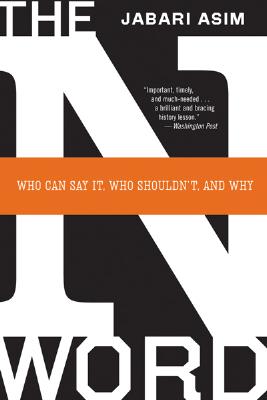 The N Word
Who Can Say It, Who Shouldn't, and Why
Paperback

* Individual store prices may vary.
Other Editions of This Title:
Digital Audiobook (12/31/2005)
Compact Disc (5/1/2007)
MP3 CD (5/1/2007)
Compact Disc (5/1/2007)
Description
A renowned cultural critic untangles the twisted history and future of racism through its most volatile word.

The N Word reveals how the term "nigger" has both reflected and spread the scourge of bigotry in America over the four hundred years since it was first spoken on our shores. Asim pinpoints Thomas Jefferson as the source of our enduring image of the "nigger." In a seminal but now obscure essay, Jefferson marshaled a welter of pseudoscience to define the stereotype of a shiftless child-man with huge appetites and stunted self control. Asim reveals how nineteenth-century "science" then colluded with popular culture to amplify this slander. What began as false generalizations became institutionalized in every corner of our society: the arts and sciences, sports, the law, and on the streets.

Asim's conclusion is as original as his premise. He argues that even when uttered with the opposite intent by hipsters and hip-hop icons, the slur helps keep blacks at the bottom of America's socioeconomic ladder. But Asim also proves there is a place for the word in the mouths and on the pens of those who truly understand its twisted history -- from Mark Twain to Dave Chappelle to Mos Def. Only when we know its legacy can we loosen this slur's grip on our national psyche.
Praise For The N Word: Who Can Say It, Who Shouldn't, and Why…
"This important new book sheds light on questions that have long gone unanswered. . .Every home should have it." --E. Lynn Harris, author of I Say A Little Prayer

"In The N Word, we just might have the definitive word on the essence of power and subordination in America." --Christopher Benson, coauthor of Death of Innocence: The Story of the Hate Crime That Changed America

"Jabari Asim persuasively explains why the N word remains a slur and a symbol of inequality." --Mary Frances Berry, Geraldine R. Segal Professor of American Social Thought and Professor of History, University of Pennsylvania —
HarperOne, 9780547053493, 288pp.
Publication Date: August 4, 2008
About the Author
JABARI ASIM is the editor in chief of The Crisis, the NAACP's flagship publication. For the previous eleven years he was an editor at the Washington Post Book World. His writing has appeared in Essence, Salon, the Los Angeles Times, the Village Voice, the Hungry Mind Review, Emerge, and elsewhere. He lives in Maryland.