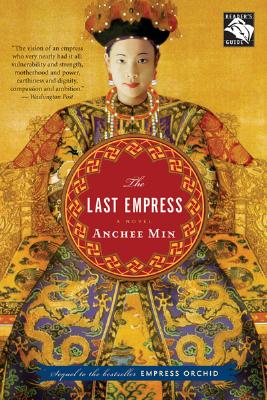 The Last Empress (Paperback)
A Novel
Mariner Books, 9780547053707, 336pp.
Publication Date: April 7, 2008
* Individual store prices may vary.
Description
The last decades of the nineteenth century were a violent period in China's history marked by humiliating foreign incursions and domestic rebellion, ultimately ending in the demise of the Ch'ing dynasty. The only constant during this tumultuous time was the power wielded by one person, the resilient, ever-resourceful Tzu Hsi, Lady Yehonala -- or Empress Orchid, as readers came to know her in Anchee Min's critically acclaimed novel covering the first part of her life.

The Last Empress is the story of Orchid's dramatic transition from a strong-willed, instinctive young woman to a wise and politically savvy leader who ruled China for more than four decades. Moving from the intimacy of the concubine quarters into the spotlight of the world stage, Orchid must face not only the perilous condition of her empire but also a series of devastating personal losses, as first her son and then her adopted son succumb to early death. Yearning only to step aside, and yet growing constantly into her role, only she—allied with the progressives, but loyal to the conservative Manchu clan of her dynasty—can hold the nation's rival factions together.

Anchee Min offers a powerful revisionist portrait based on extensive research of one of the most important figures in Chinese history. Viciously maligned by the western press of the time as the "Dragon Lady," a manipulative, blood-thirsty woman who held onto power at all costs, the woman Min gives us is a compelling, very human leader who assumed power reluctantly, and who sacrificed all she had to protect those she loved and an empire that was doomed to die.
About the Author
Anchee Min was born in Shanghai in 1957. At seventeen she was sent to a labor collective, where a talent scout for Madame Mao's Shanghai Film Studio recruited her to work as a movie actress. She came to the United States in 1984 with the help of actress Joan Chen. Her memoir, Red Azalea, was named one of the New York Times Notable Books of 1994 and was an international bestseller, with rights sold in twenty countries. Her novels Becoming Madame Mao and Empress Orchid were published to critical acclaim and were national bestsellers. Her two other novels, Katherine and Wild Ginger, were published to wonderful reviews and impressive foreign sales.