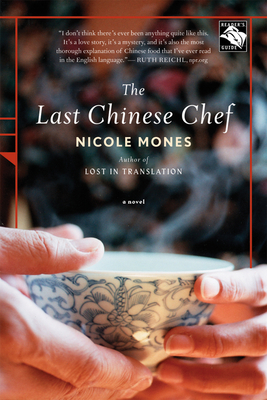 The Last Chinese Chef
A Novel
Paperback

* Individual store prices may vary.
Other Editions of This Title:
Compact Disc (3/5/2019)
MP3 CD (7/26/2016)
Description
This alluring novel of friendship, love, and cuisine brings the best-selling author of Lost in Translation and A Cup of Light to one of the great Chinese subjects: food.
When Maggie McElroy, a widowed American food writer, learns of a Chinese paternity claim against her late husband's estate, she has to go immediately to Beijing. She asks her magazine for time off, but her editor counters with an assignment: to profile the rising culinary star Sam Liang. In China Maggie unties the knots of her husband's past, finding out more than she expected about him and about herself.
With Sam as her guide, she is also drawn deep into a world of food rooted in centuries of history and philosophy. To her surprise she begins to be transformed by the cuisine, by Sam's family — a querulous but loving pack of cooks and diners — and most of all by Sam himself. The Last Chinese Chef is the exhilarating story of a woman regaining her soul in the most unexpected of places.
Praise For The Last Chinese Chef: A Novel…
Finalist for the Kiriyama Prize for Fiction World Gourmand Award Winner "Stunning... will really make your mouth water."
-Entertainment Weekly "Entertaining and learned… the perfect leisure read…effortless… profound… delicious."
-Wall Street Journal "The most thorough explanation of Chinese food I've ever read in the English language."
-Ruth Reichl, NPR "A dazzling journey… a feast… a page turner both exciting and wise."
-David Henry Hwang "Food and travel writing at its best… engaging, inventive, and incredibly informative."
-Booksense "It doesn't seem quite fair for an author to be as skilled…as Nicole Mones. Entrances."
-Seattle Times "Will transport you… you won't want to put the book down…"
-NW Asian Weekly "A masterpiece for Chinese food."
-Edouard Cointreau, judges' panel, World Gourmand Award "Subtle…meticulously researched… will entice. Avoid reading while hungry."
-Kirkus Reviews "Sumptuous... tantalizing. Early in her visit, Maggie scoffs at the idea that food can heal the human heart. Mones smartly proves her wrong."
-Publisher's Weekly "Crackling with energy and ambition.. will delight… erudite details and butter-smooth prose."
-Diana Abu-Jaber "Maybe you never considered the imperial heights of Chinese cuisine. Nicole Mones can change that with the flip of a page."
-Charlotte Observer "Outstanding and beautifully written."
-Willamette Week Erudite and entertaining…mouthwatering details on one of the world's greatest cuisines."
-Northwest Asian Times "Captivating…evocative… admirably adept…invaluably quirky knowledge about Chinese culture and food. "
-New York Times Book Review "Delicious… deftly portrays complexity and passion of a cross-cultural love affair… and the rarefied and competitive world of Chinese haute cuisine, a subtle complex art that reached its apogee in the court of the Emperor and was nearly obliterated in Mao's Cultural Revolution."
Judges' Citation, Kiriyama Prize "Delicious…reveals the sophistication of an ancient culture but also its corruption, cronyism, and poverty. "
-Waterstone Review —
Harper Perennial, 9780547053738, 304pp.
Publication Date: June 6, 2008
About the Author
NICOLE MONES is the prizewinning author of four novels, Night in Shanghai, The Last Chinese Chef, Lost inTranslation, and A Cup of Light, which are published in more than twenty-five countries.
In the beginning of the book, Maggie has tried to deal with her husband's death shrinking "her life to a pinpoint." She disconnects from people and seems to be trying to make her world and herself smaller and smaller. When you suffered a loss in your life, did you also feel like withdrawing from the world? If you didn't, how did you feel? And if you did, how did you find your way back?
Maggie's trip to China is weighted with deep emotions—confusion over her late husband's possible betrayal of her, nostalgia for the time they spent in Beijing, shock, grief. What does she ultimately find therapeutic about her time there? Do you think people are generally more open to enlightening experiences when they travel? If so, how or why?
Maggie approaches China, especially Chinese cuisine, with an initial reluctance. What is it about the culture and the food in Beijing that helps to win her over? What connections does Maggie find between this new world of cuisine and her writing specialty, American regional cuisine?
The Last Chinese Chef could be described as a novel about human healing through the lessons and joys of cuisine and the bonds between people. Several readers have written to say they felt a healing echo in themselves from reading the novel. Did you sense any of this yourself? How did the book affect you?
As the book illuminates China's gastronomical philosophy, we learn that Chinese cuisine is not only about fine ingredients and unique skills; it is also about guanxi, or relationship. Is guanxi a concept that is solely Chinese, or do other cultures honor connections and relationships in the same way—through food? What does Chinese food teach Maggie about guanxi? What did you learn that might change the way you dine and eat?
Of all the chefs vying for a spot in the Chinese Cultural Olympics, it could be said that Sam—raised in America, the son of an American Jewish mother and an expatriate Chinese father—is the least "Chinese." Yet his food is described as the most traditional. Why is it important to Sam to honor the traditions of his father and grandfather before him? What do his culinary interests reveal about him and his mixed heritage?
Sam hones his culinary skills under the tutelage of his three "uncles." How do these men influence Sam's cooking, and in what way does he work their instructions into his own culinary vision? In your own life, who has most influenced or encouraged your interest in food and/or traditions?
Sam's relationship with his father is complex and strained at times. Why has the elder Liang made the choices he has, and how have his choices contributed to the relationship with his son? Do you empathize with his decisions?
What is the significance of the book-within-the-novel, Sam's grandfather's work, The Last Chinese Chef? What deeper cultural understanding do the translated excerpts offer to Maggie, and to you as a reader?
Her interview assignment starts as a side note to her main reason for coming to China: investigation into the claim against her husband's estate. How does her unexpected assignment end up changing how she feels about her husband's death? How does her meeting with the claimants serve as a breakthrough for her? How did you feel about her ultimate handling of the claim? What does the experience teach her about herself?
When Maggie first learns about Gao Lan she is not disposed to feel friendly, yet as she gets to know the full story—slowly—her perspective on Gao Lan changes. Do you sympathize with the shift in Maggie's attitude toward this woman? Has this ever happened to you? Have you ever started out against someone and then, as you got to know more about them, slowly changed your view?
Readers have written to Nicole Mones to note that there are no villains in the book. The people who seem to have done wrong to Maggie in the beginning (like Matt and Gao Lan) become just human people who have made mistakes by the end. One reader wrote that she felt there were only two "villains" in the book: the system and the obstacles we place in front of ourselves. In your personal life story, what are your "villains"?
Reviewers have described this book as "tantalizing," "mouthwatering,"" delicious." What about Mones's descriptions make them so tempting? Was there a particular food scene that you found especially memorable or mouthwatering?
How has Maggie's experience in Beijing altered her by the book's end? What kind of future do you imagine for her, for Sam?
Maggie finds her way back through grief by way of a cuisine that insists people be bonded together, over and over, at every meal. How does food and all that it represents—community, nourishment, connection with the past—serve as a balm in both Maggie's life and Sam's life? When have you been similarly affected by the way you eat? When you finished the book, did you feel at all differently about how you cook and eat with others in your own life? If you felt you would like to change one thing about this aspect of your life, what would it be? Could you do it? Why or why not?