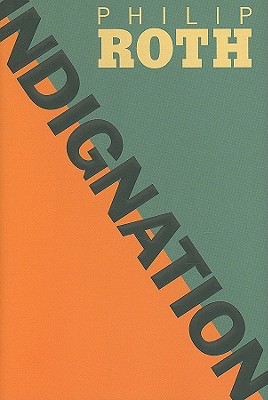 Indignation
Hardcover

* Individual store prices may vary.
Other Editions of This Title:
Digital Audiobook (2/29/2016)
Paperback (10/6/2009)
Paperback, French (4/1/2012)
Compact Disc (3/1/2016)
MP3 CD (3/1/2016)
Compact Disc (3/1/2016)
MP3 CD (9/1/2008)
Compact Disc (10/4/2011)
Hardcover (1/1/2011)
Compact Disc (9/1/2008)
Paperback (8/1/2009)
MP3 CD (9/16/2008)
Paperback, Large Print (10/7/2008)
MP3 CD (10/4/2011)
MP3 CD (8/18/2015)
Compact Disc (10/4/2011)
Description
Against the backdrop of the Korean War, a young man faces life's unimagined chances and terrifying consequences.

It is 1951 in America, the second year of the Korean War. A studious, law-abiding, intense youngster from Newark, New Jersey, Marcus Messner, is beginning his sophomore year on the pastoral, conservative campus of Ohio's Winesburg College. And why is he there and not at the local college in Newark where he originally enrolled? Because his father, the sturdy, hard-working neighborhood butcher, seems to have gone mad -- mad with fear and apprehension of the dangers of adult life, the dangers of the world, the dangers he sees in every corner for his beloved boy.

As the long-suffering, desperately harassed mother tells her son, the father's fear arises from love and pride. Perhaps, but it produces too much anger in Marcus for him to endure living with his parents any longer. He leaves them and, far from Newark, in the midwestern college, has to find his way amid the customs and constrictions of another American world.

Indignation, Philip Roth's twenty-ninth book, is a story of inexperience, foolishness, intellectual resistance, sexual discovery, courage, and error. It is a story told with all the inventive energy and wit Roth has at his command, at once a startling departure from the haunted narratives of old age and experience in his recent books and a powerful addition to his investigations of the impact of American history on the life of the vulnerable individual.
Praise For Indignation…
"In a plot that evokes the author's earlier work, Roth (Exit Ghost, 2007, etc.) focuses on a young man's collegiate coming of age against the deadly backdrop of the Korean War. The book has a taut, elegant symmetry....A twist in narrative perspective reinforces this novel's timelessness." Kirkus Reviews, Starred

"As provocative as his astonishing The Plot Against America...[A] fast-paced, compassionate, humorous, historically-conscious novel..." Booklist, ALA, Starred Review

"We can see again his shocking ability to bring history to bear on the present. As always, the rpose is well built -- sinewy and graceful -- and, as always, the wit is as sharp as a German knife. There are simply no novels by Roth in which you cannot detect the hand of a master. -- Vince Passaro O, The Oprah Magazine

"...there's a lovely perplexedness to the writing here...It's a terrific book..." Gentleman's Quarterly

"Of how many writers can it be said that they're still producing some of their best work well into their 70s? With [Indignation], his 24th novel, Philip Roth proves beyond any dispute that he deserves to be counted in that select group." Bookpage

A meditation on love, death, and madness, Roth's new novel combines the comic absurdity of his early novel like Portnoy's Complaint with the pathos of his later novels like Everyman and Exit Ghost.
Library Journal Starred

"Roth has been burning up the track for well over a decade now … And in INDIGNATION his power and intensity seem undiminished...
Roth's secret, I think, is his supreme confidence as a storyteller -- and, paradoxically, a supreme humility...
Of all Roth's recent novels, it ventures farthest into the unknowable. In his unshowy way, with all his quotidian specificity and merciless skepticism, Roth is attempting to storm heaven -- an endeavor all the more desperately daring because he seems dead certain it's not there." -- David Gates, on the cover of The New York Times Book Review

...but he is a master. And the short form serves the story: The shocking rush from this book comes from watching Roth expertly and quickly build up to a half-dozen final pages that absolutely deliver the kill. A- Entertainment Weekly

...as sharply honed as one of thos butcher-shop knives that haunt Marcus's dreams. If this is a hard book to love, it's a lot harder to forget. --Malcolm Jones Newsweek

... the interplay between a life just begun and ended, impulse and reflection, college high jinks and eternity is what makes it resonate. 4 Stars People Magazine

Once again [Philip Roth] demonstrates why he is the winner of so many prizes and why he continues to be hailed as one of America's greatest novelists...[Indignation] adds further evidence of his superb talent as a foremost literary craftsman. --The Jewish Advocate

Mr. Roth is a master magician who can make the same old rabbits do new tricks.
New York Sun

A magnificent display of writerly talent: a lean, powerful novel with bold characters who command attention, scenes of impressive dramatic itnerest and comic vitality, language that blasts the reader's cozy complacency (it's not called Indignation for motnhing), and a theme that swells imperceptibly from a murmer to a satisfying roar...Read Indignation -- read it with a ear for the naked power of Philip Roth at full tilt. -- Adam Begley, The New York Observer

Indignation is impossible to put down until it's finished. Then, it's impossible to shake off the aftermath of this mesmerizing story. Seattle Times/Post-Intelligencer

Copies of Indignation, Philip Roth's ferocious little tale, ought to be handed out on college camuses along with condoms and tetanus shots...Here's a novel to be witnessed as an explosion from an author still angry enough to burn with adolesdent rage and wise enough to understand how self-destructive that rage can be. --Ron Charles, Book World The Washington Post
Houghton Mifflin Harcourt, 9780547054841, 256pp.
Publication Date: September 16, 2008
or
Not Currently Available for Direct Purchase