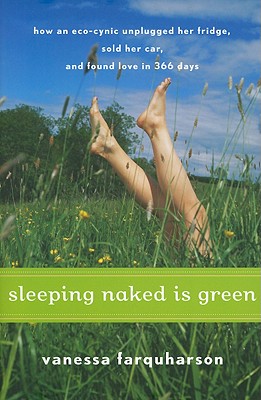 Sleeping Naked Is Green
How an Eco-Cynic Unplugged Her Fridge, Sold Her Car, and Found Love in 366 Days
Paperback

* Individual store prices may vary.
Description
No one likes listening to smug hippies bragging about how they don't use toilet paper, or worse yet, lecturing about the evils of plastic bags and SUVs. But most of us do want to lessen our ecological footprint. With this in mind, Farquharson takes on the intense personal challenge of making one green change to her lifestyle every single day for a year to ultimately figure out what's doable and what's too hardcore.

Vanessa goes to the extremes of selling her car, unplugging the fridge, and washing her hair with vinegar, but she also does easy things like switching to an all-natural lip balm. All the while, she is forced to reflect on what it truly means to be green.

Whether confronting her environmental hypocrisy or figuring out the best place in her living room for a compost bin full of worms and rotting cabbage, Vanessa writes about her foray into the green world with self-deprecating, humorous, and accessible insight. This isn't a how-to book of tips, it's not about being eco-chic; it's an honest look at what happens when an average girl throws herself into the murkiest depths of the green movement.
Praise For Sleeping Naked Is Green: How an Eco-Cynic Unplugged Her Fridge, Sold Her Car, and Found Love in 366 Days…
"A humorous, self-deprecating tale of the crazy things that happen to normal people when they take the green plunge."
—Alisa Smith, coauthor of Plenty: Eating Locally on the 100-Mile Diet

"One step a day doesn't seem like much, but over the course of a whole year it adds up to a world of difference. This isn't just a well-written and fun book about going green, it is about watching a personal transformation. Being inspired was never so entertaining."—Lloyd Alter, Treehugger.com

"Lively and specific, Farquharson's forthright chronicle of the ups and downs of green awareness is the perfect book for eco-skeptics."—Booklist
Houghton Mifflin Harcourt, 9780547073286, 288pp.
Publication Date: June 11, 2009
About the Author
Vanessa Farquharson is an arts reporter and film critic at the National Post, based in Toronto. Her blog, "Green as a Thistle," tracked her year-long green adventure. She has been published in Eye Weekly and the Ottawa Citizen, profiled on Treehugger.com and featured numerous times on CBC Radio.