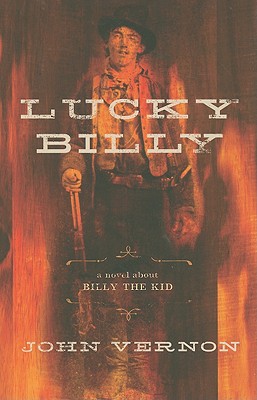 Lucky Billy
Hardcover

* Individual store prices may vary.
Other Editions of This Title:
Hardcover, Large Print, Large Print (3/1/2009)
Description
A myth-busting novel about America's most infamous and beloved outlaw, Billy the Kid, from a critically acclaimed historical novelist

According to legend, Billy the Kid killed twenty-one men, one for every year of his short life; stole from wealthy cattle barons to give to the poor; and wooed just about every senorita in the American Southwest.
In Lucky Billy, John Vernon digs deeply into the historical record to find a truth more remarkable than the legend, and draws a fresh, nuanced portrait of this outlaw's dramatic and violent life.

Billy the Kid met his celebrated end at the hands of Pat Garrett, his one-time carousing partner turned sheriff, who tracked Billy down after the jail break that made him famous. In Vernon's telling, the crucial event of Billy's life was the Lincoln County War, a conflict between a ring of Irishmen in control of Lincoln, New Mexico, and a newcomer from England, John Tunstall, who wanted to break their grip on the town. Billy signed on with Tunstall. The conflict spun out of control with Tunstall's murder, and in a series of revenge killings, an obscure hired gunman called Kid Antrim became Billy the Kid.

Besides a full complement of gunfights, jail breaks, and bawdy behavior, Lucky Billy is a provocative picture of the West at a critical juncture between old and new. It is also a portrait of an American icon made human, caught in the middle, more lost than brave, more nadve than principled, more of an accidental survivor than simply the cold-blooded killer of American myth.
Praise For Lucky Billy…
"The lawlessness of the period, in which criminality can mean simply being on the wrong side of corrupt officials, is evoked to perfection, scenes of unremitting brutality playing out against the harsh beauty and shifting colors of the landscape."
— Booklist
"A compelling image of the legendary outlaw's flawed, fascinating character...Don't believe the critical canard that the Wild West tale is dead—this novel proves again that it ain't even seriously wounded."
— Kirkus Reviews
"Using careful research as his base, Vernon steps beyond the legend to reveal a Billy the Kid who is at once transparent and puzzling...An intriguing new look at an American legend that took shape in a time of challenging and often dangerous change."
— Denver Post
"He succeeds admirably by focusing on the psychologies of billy, especially, and the men around him...Vernon has created a convincing version of the familiar story, one which looks beneath the dramatic events to portray the humanity that even Billy shares, A-."

— Rocky Mountain News
"Vernon's powers of description are formidable...Here's a book that casts fresh, disorienting light on a figure and an era lost in the haze of legend."

— Seattle Times
"[Lucky Billy] is an entertaining, humanized portrait of The Kid as we've rarely seen him before."

— American Cowboy
"Vernon crafts a highly readable story...This character-rich saga is both gripping and engrossing."
— Tucson Citizen
"The literature of Billy the Kid is extensive, but there will always be room for another book on the subject that is as finely written as is Lucky Billy...as Vernon darts in and out of different characters' consciousnesses, introduces dozens of characters, and skips around in time, Lucky Billy ultimately rewards a reader's attention, and delivers a convincing, human portrait of the legendary outlaw."
— New West
Houghton Mifflin Harcourt, 9780547074238, 304pp.
Publication Date: November 3, 2008
About the Author
JOHN VERNON is the author of the novels La Salle, Lindbergh's Son, Peter Doyle, and All for Love: Baby Doe and Silver Dollar. The recipient of two NEA fellowships, he teaches at SUNY Binghamton. His work has been published in Harper's Magazine, the New York Times Book Review, The Los Angeles Times, Newsday, and The Nation.
or
Not Currently Available for Direct Purchase