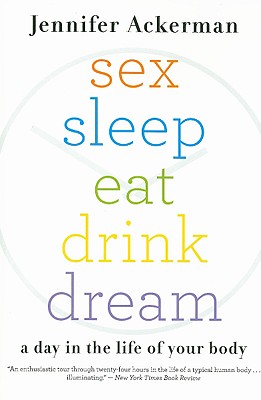 Sex Sleep Eat Drink Dream (Paperback)
A Day in the Life of Your Body
Mariner Books, 9780547085609, 253pp.
Publication Date: October 1, 2008
Description
Did you know that you can tell time in your sleep? That women have more nightmares than men? Or that up to half of the calories you consume can be burned off simply by fidgeting? In Sex, Sleep, Eat, Drink, Dream, acclaimed science writer Jennifer Ackerman takes us on an astonishing and illuminating tour of the human body during a typical day, from waking in the morning to the reverie of sleep and dreams.
Most of us are familiar with the concept of circadian rhythms, the idea that the human body maintains its own internal clock. Recent scientific advances reveal the importance of synchronizing our actions with our biological rhythms and show how defying them can cause us real harm. With Ackerman as our guide we learn the best time of day to take a nap, give a presentation, take medication, and even drink a cocktail, along with a host of other useful and curious facts. Entertaining and deeply practical, this book will make readers think of their bodies in an entirely new way.

Advertisement