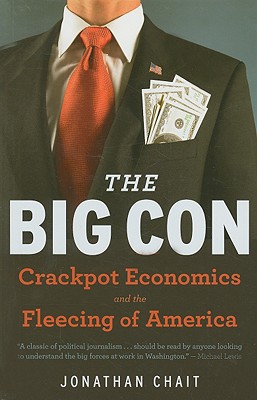 The Big Con: The True Story of How Washington Got Hoodwinked and Hijacked by Crackpot Economics (Paperback)
The True Story of How Washington Got Hoodwinked and Hijacked by Crackpot Economics
Mariner Books, 9780547085708, 294pp.
Publication Date: September 3, 2008
Description
American politics has been hijacked. Over the past three decades, a fringe group of economic hucksters has corrupted and perverted our nation's policies. With dark, engaging wit, Jonathan Chait reveals how these canny zealots first took over the Republican Party and then gamed the political system and the media so that once unthinkable policieswithout a shred of academic, expert, or even popular supportnow drive the political agenda, regardless of which party is in power.
Why have these ideas succeeded in Washington? How did a clique of extremists gain control of American economic policy and sell short the country's future? And why do their outlandish ideas still determine policy despite repeated electoral setbacks? Chait tells the outrageous and eye-opening story, expertly explaining just how politics and economics work in Washington. He has produced a riveting drama of greed and deceit that should be read by every concerned citizen, especially in an election year.
Advertisement