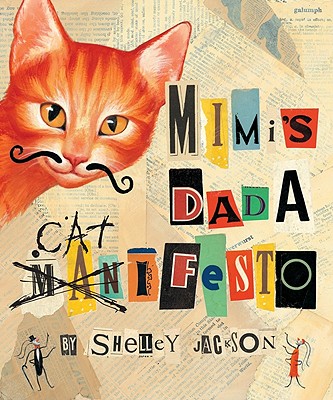 Mimi's Dada Catifesto (Hardcover)
Clarion Books, 9780547126814, 48pp.
Publication Date: April 12, 2010
* Individual store prices may vary.
Description
Mimi is an artistic cat in need of a human. But for a cat like her—with the soul of an artist—only an artist will do. Mr. Dada is a human who believes that art can be anything, and that anything can be art. And for a human like him—with the soul of a Dadaist—only an artistic pet will do. Sometimes, though, it takes a while for humans to see what's right in front of them all along. So it is a good thing that Mimi is loud and silly and surprising and bold. Mimi is a Dada cat, through and through.
This charming story about staying true to yourself sparkles with playful prose and stunning mixed-media illustrations while introducing readers to the Dadaist art movement. Includes an author's note, a list of books and websites, and an index.
About the Author
Shelley Jackson has written and illustrated several books for children, including
The Old Woman and the Wave
(DK Children, 1998) and
Sophia, the Alchemist's Dog
(Atheneum/Richard Jackson Books, 2002). Her book 
The Chicken-Chasing Queen of Lamar County
by Janice Harrington (FSG, 2007) received several awards and starred reviews. Shelley's books for adults include 
The Melancholy of Anatomy
(Anchor Books, 2002) and
Half Life
(HarperCollins, 2006). She is well known for her pioneering cross-genre experiments such as her groundbreaking hypertext novel,
Patchwork Girl,
and her ongoing
Skin Project,
a novella published exclusively in the form of tattoos on the skin of volunteers, one word at a time. She lives in Brooklyn, New York. To learn more, please visit her website: 
http://ineradicablestain.com/
Praise For Mimi's Dada Catifesto…
"This engaging picture book delivers a pleasurable story, dazzling artwork and a fascinating introduction to Dadaism. "For a cat with the soul of an artist, only an artist will do," states Mimi the cat...Mixed-media art bristles with the energy and dynamic compositional flair found in Jackson's illustrations for Janice Harrington's The Chicken-Chasing Queen of Lamar County (2007), and her appropriately (but only apparently) nonsensical design will have readers flipping back and forth and turning the book around as they experience the story. Outstanding backmatter provides background on Dada. Completely spectacular."--Kirkus, starred review
"Pumpkin-colored Mimi is not a cat that "comes running to whoever coos Kitty, kitty," but when she stumbles on a Dada performance, she decides she wants the artist, Mr. Dada, to be her human...Jackson pays homage to Dadaists with a richly chaotic montage of newsprint, paintings, fonts, and graphic design elements, and her text is equally adept at encapsulating the anarchic nature of the movement (an author's note offers background about Dadaism). It's a book for readers who like a challenge, but the message that "art can be anything" comes through clearly.--Publishers Weekly
or
Not Currently Available for Direct Purchase