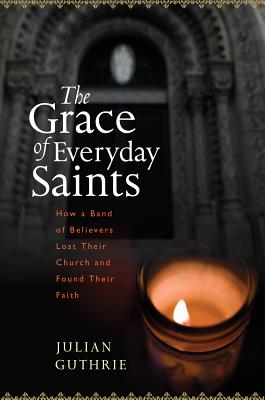 The Grace of Everyday Saints
How a Band of Believers Lost Their Church and Found Their Faith
Hardcover

* Individual store prices may vary.
Description
St. Brigid Church was one of San Francisco's great landmarks in the early 1990s. The church itself had weathered depressions and natural disasters, epic earthquakes and a massive fire. Its loyal congregation was active, vibrant, and growing. But in 1993, without warning, the Catholic archdiocese mysteriously ordered its doors to be closed.
The Grace of Everyday Saints is the story of how a ragtag group of believers came together in a crusade to save their church. What they discovered would be devastating: that around the country, parishes like theirs were threatened by the higher echelons of the Church, all to hide a terrible secret. Soon there were near-daily headlines that shocked the world. But still this unlikely group of heroes—led by a renegade lawyer, a reformed Catholic, and an antiestablishment priest—continued to meet weekly, to fight, to prove that their beloved St. Brigid was worth saving.
A dramatic narrative that takes readers from the streets of San Francisco to the halls of the Vatican, The Grace of Everyday Saints is about injustice and betrayal, redemption and grace.
Praise For The Grace of Everyday Saints: How a Band of Believers Lost Their Church and Found Their Faith…
"Julian Guthrie has crafted a gem of a book. With the gift of an accomplished story teller, she tells of an amazing community of people come together to save their church. The story of their struggle is waged against a foe their Archbishop and his minions dare not mention: the church's sexual abuse scandal. Many trees have been felled to expose the pedophilia of too many clerics and the stony silence of church officials. This book shines a very different light on this scandal, and at the same time introduces readers to individuals we'd welcome as our shepherds."
—Ken Auletta, author and media critic, The New Yorker
"Julian Guthrie's moving and eloquent book offers a parable of authentic faith, how resistance and reverence open to one another. A new image of belief - and just in time."
— James Carroll, author, Jerusalem, Jerusalem
"This is the story of a candle that burned on the steps of a fabled, shuttered church and of the people who kept that flame—and their own faith—alive, even as those vested with 'higher' authority failed believers everywhere. What is sacred? Who can be trusted? Can communities save us when hierarchies cannot? This brave and engrossing book seeks answers. It sanctifies a truly moving quest." 
—Beth Kephart, author, Dangerous Neighbors and You Are My Only, faculty, University of Pennsylvania
"A vivid, compassionate account of the battle waged by the men and women of a historic San Francisco parish against orders to close their church. Ranging from family gatherings to the halls of the Vatican, Julian Guthrie tells a story of community, faith, and resilience in the era of clerical child-abuse scandals and ecclesiastical intransigence." —T.J. Stiles, author of the Pulitzer Prize-winning The First Tycoon: The Epic Life of Cornelius Vanderbilt.
"This beautiful book about the resilience of a small group of Catholic parishioners against the shutdown of their church is a parable of larger convulsions caused by unjust bishops. Pope Benedict would learn a lot from Julian Guthrie's eloquent reportage."
—Jason Berry, author, Render Unto Rome: The Secret Life of Money in the Catholic Church
"A dramatic David vs. Goliath account of a church under siege by its own power structure.
San Francisco Chronicle
journalist Guthrie begins with the unexpected 1994 closure of St. Brigid Catholic Church, a beautiful landmark built more than a century ago by Irish immigrants in one of San Francisco's busiest areas. The closure did not make sense—the magnificent Romanesque building had survived earthquakes, fire and both World Wars, and boasted 21 active parish groups and nearly three-quarters of a million dollars in funds—but the Catholic leadership ordered it closed nonetheless. Along came the faithful—people like Lily Wong, a blind woman who knew the exact number of steps it took to get from her house to St. Brigid's—and their vigilant struggle to have the church reopened. Guthrie's exhaustive research and interviews with more than 75 parishioners delve below the surface, and allow her to paint a striking portrait of their struggle and strength. Led by unlikely saints such as Father O, an offbeat priest who waved a white towel while urging parishioners to not "throw in the towel," they kept a candle burning and petitioned for a decade to save their beloved St. Brigid. The odds seemed insurmountable and faith-shaking. Some of the people, like Carmen Esteva, originally held church officials' decisions in godlike reverence; she later became the group's spiritual leader. Through myriad twists and turns, Guthrie's smoothly written narrative uncovers powerful church secrets—and a pillar of community faith. Engaging proof that ordinary people can do extraordinary things."
—Kirkus Reviews
Houghton Mifflin Harcourt, 9780547133041, 288pp.
Publication Date: August 18, 2011
About the Author
JULIAN GUTHRIE is a reporter at the San Francisco Chronicle. She has won numerous awards for her work, including the Best of the West Award and the Society of Professional Journalists' Public Service Award.
or
Not Currently Available for Direct Purchase