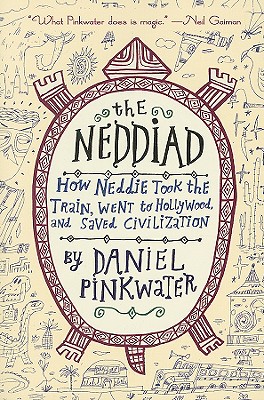 The Neddiad
How Neddie Took the Train, Went to Hollywood, and SavedCivilization
Paperback

* Individual store prices may vary.
Description
Bestselling author Daniel Pinkwater's story of how Neddie, a shaman, a ghost, three pals, and a maneuver known as the French substitution determine the fate of the world.

Melvin the Shaman. Sandor Eucalyptus. Billy the Phantom Bellboy. Daniel Pinkwater's weird and wonderful tale of Neddie Wentworthstein's quest to save civilization features some of the most unique heroes and villains a reader could hope to meet. Despite the heavy responsibility that Neddie must carry (not every kid is charged with rescuing humankind from doom), his story is hilarious, warm, welcoming, and sweet.
Praise For The Neddiad: How Neddie Took the Train, Went to Hollywood, and SavedCivilization…
...plenty of funny lines and scenes, though, and fans of Pinkwater will probably enjoy this messy, entertaining enterprise." Booklist, ALA

"The author creates secondary roles as interesting as the starring characters. Even if there were no quest at the heart of the tale (and there is a good one) this would be a highly entertaining road trip—thanks to Pinkwater's one-of-a-kind comic sensibility and his uncanny ability to access the language and mindset of boys." Publishers Weekly, Starred

This amiable, old-fashioned adventure saga by the droll and prolific Pinkwater is a lot of fun to read, full of unexpected plot twists, LA atmosphere, and goofy names.
KLIATT

"Ned's compelling sense of wonder and delight at each new sight or encounter positively propels his account of the cross-country journey along." Kirkus Reviews

The first-person narrative's relaxed pace leaves ample room for Pinkwater's affectionate descriptions of the old movie house, the doughnut shop (where certain extraterrestrial fat men make a cameo appearance), the La Brea tar pits, and other interesting landmark of Neddie's L.A. neighborhood. Readers looking for a nail-biting thriller won't find it here; but those who do get drawn into Pinkwater's portrait of old Hollywood, embellished with loopy supernatural intrigue, will devour it like a double-chocolate doughnut.
Horn Book

"The title of this book ought to give you an idea of its goofy wonderfulness....What makes this book so delightful-apart from the zaniness of the storyline--is the author's lively, humane wit." The Wall Street Journal

"Pinkwater, master of nostalgia-tinged satire (or is it satire-tinged nostalgia?), sets this very funny encomium to the '40s in a swath of America stretching from Chicago to L.A....Neddie's pitch-perfect rendition of that '40s voice-- a tad formal, a smidgen hardboiled, faintly tongue-in-cheek -- should charm even the most jaded 12-year-old." The Washington Post

"Fans of Daniel Pinkwater's laugh-out-loud fiction will savor the tale of Neddie Wentworthstein, whose family moves to Los Angeles from Chicago. Invite kids to check out the novel's Web site (www.pinkwater.com/theneddiad) for a peek at original drafts—perfect for a lesson on revision." Instructor, Scholastic, Inc. —
Clarion Books, 9780547133676, 320pp.
Publication Date: February 16, 2009
About the Author
Daniel Pinkwater lives with his wife, the illustrator and novelist Jill Pinkwater, and several dogs and cats in a very old farmhouse in New York's Hudson River Valley.
or
Not Currently Available for Direct Purchase