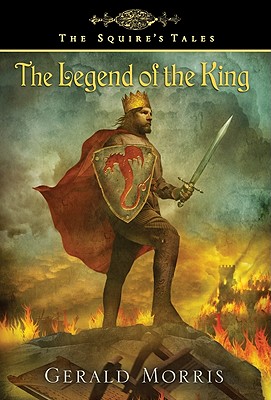 The Legend of the King (Hardcover)
Harcourt Brace and Company, 9780547144207, 304pp.
Publication Date: September 13, 2010
* Individual store prices may vary.
or
Not Currently Available for Direct Purchase
Description
In this final installment of the Squire's Tale series, Terence and his fellow Knights of the Round Table must come together in a last stand to save Camelot. The characters Gerald Morris has brought to life throughout his series Terence and Gawain, Lynet and Gaheris, Luneta and Rhience, Dinadan and Palomides" each have an important role to play in this climactic final conflict. Maintaining their faith, selflessness, and honor, Arthur's court bands together to try to defeat Morgause and Mordred and banish the dark magic from England forever.
Praise For The Legend of the King…
"Morris pulls off a spectacular conclusion to his humane and witty Squire's Tales series as destructive intriques both provide a backdrop for a fan-pleasing reunion of favorite figures from past episodes and lead up to the final battle between Arthur and his brilliant, hideously warped son Mordred. . . . Though the author doesn't shy from depicting the legend's tragic end, he does display authorial mercy in a set of aftermath scenes that ease the pain with a focus on healing and the future. Well done."—Kirkus Reviews, starred review
"The knights' simplicity, honor, and kitchen-table philosophizing will continue to entrance readers, straight through to the end of this thrilling, elegiac, hope-from-the-ashes saga."—The Horn Book, starred review


Praise for Other Books By Gerald Morris:

The Squire's Tale
"Well-drawn characters, excellent, snappy dialogue, detailed desriptions of medieval life, and a dry wit put a new spin on this engaging tale." —Booklist
The Lioness and Her Knight
"Once again, Morris brilliantly re-animates an old story, keeping readers engaged while gently, genially urging them to ruminate over the truths at its heart."—Kirkus Reviews, starred review
The Princess, the Crone, and the Dung-Cart Knight
" Readers looking for page-turning adventure, a strong heroine, and some fun will find it all here." —School Library Journal
The Ballad of Sir Dinadan
"Fans of the previous titles or Arthurian legend in general will thoroughly enjoy Sir Dinadan, but it stands on its own as a lighthearted introduction to the period."—School Library Journal, starred review
"Morris pulls off a spectacular conclusion to his humane and witty Squire's Tales series as destructive intriques both provide a backdrop for a fan-pleasing reunion of favorite figures from past episodes and lead up to the final battle between Arthur and his brilliant, hideously warped son Mordred...Though the author doesn't shy from depicting the legend's tragic end, he does display authorial mercy in a set of aftermath scenes that ease the pain with a focus on healing and the future. Well done."—
Kirkus,
 starred review
Advertisement