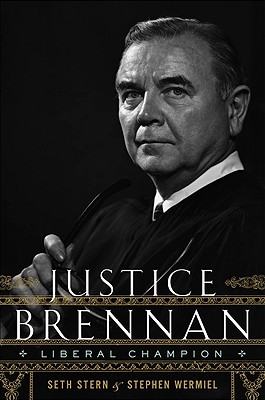 Justice Brennan: Liberal Champion (Hardcover)
Liberal Champion
Houghton Mifflin Harcourt (HMH), 9780547149257, 674pp.
Publication Date: October 4, 2010
* Individual store prices may vary.
or
Not Currently Available for Direct Purchase
Description
A sweeping insider look at the life of William Brennan, champion of free speech and widely considered the most influential Supreme Court justice of the twentieth century
Before his death, William Brennan granted Stephen Wermiel access to volumes of personal and court materials that are sealed to the public until 2017. These are what Jeffrey Toobin has called a coveted set of documents that includes Brennan's case histories in which he recorded strategies behind all the major battles of the past half century, including Roe v. Wade, affirmative action, the death penalty, obscenity law, and the constitutional right to privacy as well as more personal documents that reveal some of Brennan's curious contradictions, like his refusal to hire female clerks even as he wrote groundbreaking women's rights decisions; his complex stance as a justice and a Catholic; and details on Brennan's unprecedented working relationship with Chief Justice Earl Warren. Wermiel distills decades of valuable information into a seamless, riveting portrait of the man behind the Court's most liberal era.
Praise For Justice Brennan: Liberal Champion…
"The authors balance differing accounts of Brennan the jurist and the man, presenting an evenhanded portrait of the affable but stubborn Justice."
--Kirkus Reviews
"'Justice Brennan' provides the most comprehensive and well-organized look at the legendary liberal jurist to date. Stern and Wermiel dig below the popular cliche of Bill Brennan as the Constitution's Gene Kelly, all twinkling eyes and glad-to-see-ya Irish charm," to reveal the complicated (and quite conservative) man beneath."
--The New York Times
"Those who want to understand the glory and the contradictions of a true progressive jurist should buy the first full-length biography, Justice Brennan: Liberal Champion, by Seth Stern and Stephen Wermiel."
--The Atlantic Online
"Brennan made a huge mark on our Constitution, and Stern and Wermiel illuminate his legacy remarkably well."
--Christian Science Monitor
"The definitive [Brennan] biography...a detailed and fascinating account... Both legal scholars and general readers will be delighted with this well-written, superbly documented biography."
--Publishers Weekly (starred review)

"This sweeping biography of one of the most influential justices ever to serve on the Supreme Court of the United States invites the reader to witness the details of William J. Brennan Jr.'s personal life, the darker moments, as well as those that shine. It seats the reader in Brennan's chambers to listen to his conversations and see the memoranda exchanged with other justices and his law clerks ... In sum, the biography is an intimate account of Brennan's life, especially his 34 years on the Court."
--Newark Star Ledger
"The book offers an intelligent and interesting account both of Brennan's decades on the Court and of the broader developments in American life that intertwined with the Court's work."
--Ed Whelan, National Review Online
"The book takes care to place decisions and opinions in the context of Brennan's personal history, judicial philosophy and larger societal factors. It's deliciously gossipy when discussing how certain justices voted and what their opinions were of each other, but that information's also vital when understanding how the court operated."
--Dan Herman, Pacific Northwest Inlander
Advertisement