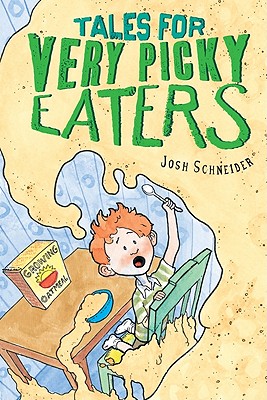 Tales for Very Picky Eaters (Hardcover)
Clarion Books, 9780547149561, 48pp.
Publication Date: May 2, 2011
Other Editions of This Title:
Digital Audiobook (6/14/2012)
Paperback (11/18/2014)
Prebound (11/18/2014)
Prebound (11/1/2014)
* Individual store prices may vary.
Description
2012 Winner of the Theodor Seuss Geisel Award!James is a very picky eater. His dad has to get creative—very creative—in order to get James to eat foods he thinks he doesn't like. He presents James with a series of outlandish scenarios packed with fanciful and gross kid-friendly details—like pre-chewed gum as an alternative to broccoli and lumpy oatmeal that grows so big it eats the dog—in an effort to get James to eat. But it is eventually James himself who discovers that some foods are not so bad, after all, if you're willing to give them a try.This irreverently hilarious early reader, illustrated in full color, explores a universal point of contention between parent and child in a playful, satisfying way.
About the Author
Josh Schneider is the Theodor Seuss Geisel Award-winning creator of Tales for Very Picky Eaters and many popular picture books, including Princess Sparkle-Heart Gets a Makeover, Everybody Sleeps (But Not Fred), and Kid Amazing vs. The Blob. His first book, You'll Be Sorry, was named "Book That Provides Best Ammunition to Parents Weary of Warning Their Kids About Socking Their Siblings" by Publishers Weekly magazine. Josh lives in Chicago with his wife, Dana.
Praise For Tales for Very Picky Eaters…
2012 Winner of the Theodor Seuss Geisel Award "Eager and picky eaters alike will enjoy the wordplay and outrageous situations, which create humor from a familiar source of family tension."—Booklist "The sophisticated yet silly humor will appeal to new readers wanting something a little different. . . . A perfect segue into chapter books, this easy reader is sure to be a crowd pleaser." —School Library Journal "Stories with all the wit and good humor parents can often lose during dinner table battles. A palatable strategy." —Chicago Tribune "The illustrations are fun and whimsical, which causes even picky youngsters to listen attentively without complaints." —Scaramento Book Review