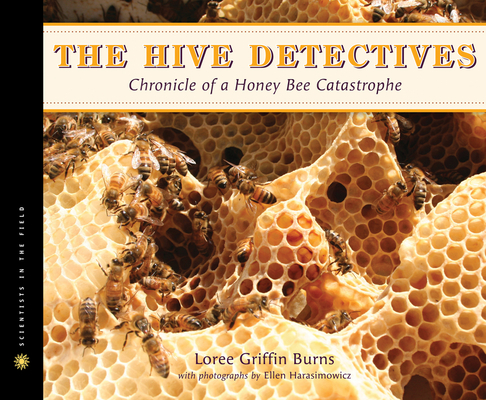 The Hive Detectives (Hardcover)
Chronicle of a Honey Bee Catastrophe (Scientists in the Field Series)
HMH Books for Young Readers, 9780547152318, 80pp.
Publication Date: May 3, 2010
* Individual store prices may vary.
Description
Without honey bees the world would be a different place. There would be no honey, no beeswax for candles, and, worst of all, barely a fruit, nut, or vegetable to eat. So imagine beekeeper Dave Hackenburg's horror when he discovered twenty million of his charges had vanished. Those missing bees became the first casualties of a mysterious scourge that continues to plague honey bee populations today. In The Hive Detectives, Loree Griffin Burns profiles bee wranglers and bee scientists who have been working to understand colony collapse disorder, or CCD. In this dramatic and enlightening story, readers explore the lives of the fuzzy, buzzy insects and learn what might happen to us if they were gone.

About the Author
Loree Griffin Burns, Ph.D., did her doctoral at the University of Massachusetts Medical School. Ms. Burns lives in Massachusetts with her husband and children. She is the author of Beetle Busters,Tracking Trash, and The Hive Detectives. Learn more about Loree at loreegriffinburns.com and follow her on Twitter @loreegburns.
Ellen Harasimowicz is a freelance photojournalist new to nature photography. Her work has appeared in the
Boston Globe
, the
Washington Post
, and
Scientific American
. Ellen lives in Massachusetts with her husband, Paul; her work can be seen at
ellenharasimowicz.com
. Follow Ellen on Twitter @ellharas.
Praise For The Hive Detectives: Chronicle of a Honey Bee Catastrophe (Scientists in the Field Series)…
"Throughout the presentation, readers learn about the anatomy, development, and social behavior of honey bees, and observe the process of scientific investigation and its vital, real-world application. Appended are lists of recommended books, magazines, films, Web sites as well as a glossary and a source bibliography. A fascinating book from the Scientists in the Field series."—Booklist, starred review
"Not long after beekeepers encountered a devastating new problem in their hives in 2006, a team of bee scientists began working to discover the causes of colony collapse disorder (CCD), now attributed to a combination of factors possibly including pesticides, nutrition, mites and viruses...Harasimowicz's clear, beautifully reproduced photographs support and extend the text."—Kirkus, starred review