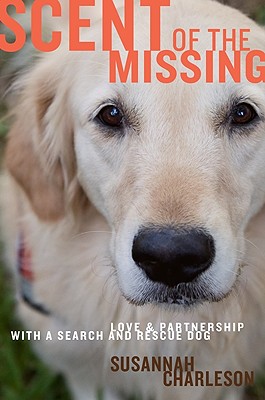 Scent of the Missing (Hardcover)
Love and Partnership with a Search-and-Rescue Dog
Houghton Mifflin Harcourt, 9780547152448, 304pp.
Publication Date: April 1, 2010
Other Editions of This Title:
Digital Audiobook (4/13/2010)
Paperback (1/19/2011)
Compact Disc (4/14/2010)
Pre-Recorded Audio Player (4/14/2010)
MP3 CD (4/14/2010)
Hardcover, Large Print, Large Print (7/1/2010)
Audio Cassette (4/1/2010)
* Individual store prices may vary.
Description
An unforgettable memoir from a search-and-rescue pilot and her spirited canine partner
In the wake of the Oklahoma City bombing, Susannah Charleson clipped a photo from the newspaper of an exhausted canine handler, face buried in the fur of his search-and-rescue dog. A dog lover and pilot with search experience herself, Susannah was so moved by the image that she decided to volunteer with a local canine team and soon discovered firsthand the long hours, nonexistent pay, and often heart-wrenching results they face. Once she qualified to train a dog of her own, she adopted Puzzle, a strong, bright Golden Retriever puppy who exhibited unique aptitudes as a working dog but who was less interested in the role of compliant house pet. "Scent of the Missing" is the story of Susannah and Puzzle's adventures as they search for the missing--a lost teen, an Alzheimer's patient wandering in the cold, signs of the crew amid the debris of the space shuttle Columbia disaster--and unravel the mystery of the bond between humans and dogs.
Praise For Scent of the Missing: Love and Partnership with a Search-and-Rescue Dog…
"Scent of the Missing contains wonderful writing about dogs and plenty of powerful, compassionate writing about the community of mankind. In its telling, it is respectful of life and celebrates the living." –Rick Bass
"The transformation of Puzzle the cuddly pup into Puzzle the professional search-and-rescue dog would be story enough, but Susannah Charleson gives us far more. With lean, lovely prose she takes us on a clear-eyed, compassionate journey into a mysterious world in which every story begins as a ghost story. When Charleson turns the search inward, she does so deftly, never straying more than a leash-length from the heart and soul of this book: Puzzle, and the all-too mortal ghosts she seeks." –Michael Perry, author of Population: 485 and Coop
"Scent of the Missing is not only a 'stay up too late at night' story, it's a brilliantly written book that should be on every dog lover's bed stand.  Her descriptions of her dogs are laugh out loud funny, and her use of language is so rich I'm not sure if I want to read her book or eat it." –
Patricia B. McConnell
, author of
The Other End of the Leash and For the Love of a Dog
"A fascinating woman, Susannah Charleson, has written eloquently about her fascinating colleague, a golden retriever named Puzzle, and the critically important search and rescue work that these two faced together. Scent of the Missing is a clear documentation of the ability of search and rescue dogs, and a celebration of the human-animal bond." –
Elizabeth Marshall Thomas
, author of
The Hidden Life of Dogs
"A riveting view of both the human animal bond and the training of search and rescue dogs. All dog lovers and people interested in training service dogs should read this book." –
Temple Grandin
, author of
Animals Make us Human
and
Animals in Translation
"Scent of the Missing is heartwarming, heart-achingly poignant, and riveting from page one. Puzzle had me from her first joyous wroo!" –
Hallie Ephron
, author of
Never Tell a Lie
  "This book is a fantastic discovery! Dog and human decipher each other's language and behavior to solve the mystery of the missing, and along the way find their bonds of love, trust and friendship grow. I loved this book." –
Lynne Cox
, author of
Swimming to Antarctica
and
Grayson


"[I]f you want to read about a dog who's a real hero, try Susannah Charleson's refreshingly grounded memoir, Scent of the Missing (Houghton Mifflin Harcourt, $26)." —
Washington Post
"In a dog book, I look for great information, a wonderful story about the relationship between humans and dogs, and anecdotes that are funny, insightful and memorable. Rarely do all three components come together, but Susannah Charleson's memoir has the whole package. Beautifully written, informative, charming in every detail that chronicle the life and work of Susannah and her dog Puzzle, and laugh-'til-you-snort funny, it's a magnificent work." 
—
Bark
Magazine "In a revealing new book, author Susannah Charleson shares the trials, tribulations, and unexpected rewards of training her own search-and-rescue dog….gripping." 
—
Cesar's Way
"Susannah's tales of searches are filled with urgency and suspense. They are tastefully and sympathetically portrayed, never delving into the macabre. This beautifully crafted and well-paced story, interwoven with threads on training, SAR science and the author's personal trials, makes for truly compelling reading."
—BookReporter "In this haunting meditation on trust, hope and love, Charleson chronicles her work as a handler with Dallas' canine search-and-rescue team. A mesmerizing close-up of dogs trained to sniff for human scent, the book also celebrates Charleson's extraordinary partnership with Puzzle, her golden retriever. Whether describing finding a missing child in an air duct or searching for survivors amid the debris of the Columbia space shuttle, Charleson's prose is palpably alive, showing how each job, like life, entails placing "one foot before another, hoping for good but prepared for grief, and following the dog ahead anyhow." 
—Caroline Leavitt,
People
Magazine "Charleson's depictions of the dogs, how they work and their joys and pains (and hers) are a pleasure to read, both informative and heartwarming....A fascinating, intense and often delightful story about training a search-and-rescue dog." 
—ShelfAwareness "The unique dynamic between man and "man's best friend" is passionately explored by a search-and-rescue dog handler....An inspiring collection of rescue tales ideal for dog lovers and armchair detectives." 
—
Kirkus
"This memorable tribute to the dedication of these dog-handler teams is an essential read for dog lovers." 
—STARRED
Library Journal
Coverage from NPR
or
Not Currently Available for Direct Purchase