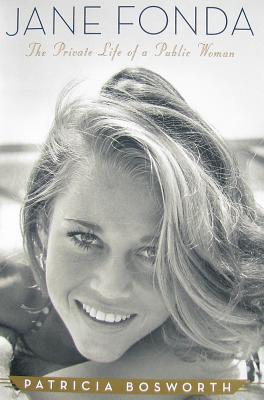 Jane Fonda (Hardcover)
The Private Life of a Public Woman
Houghton Mifflin, 9780547152578, 596pp.
Publication Date: August 30, 2011
* Individual store prices may vary.
or
Not Currently Available for Direct Purchase
Description
Bosworth goes behind the image of an American superwoman, revealing Jane Fonda more powerful and vulnerable than ever expected whose struggles for high achievement, love, and successful motherhood mirror the conflicts of a generation of women.
In the hands of this seasoned, tenacious biographer, the evolution of one of the century's most controversial and successful women becomes nothing less than a great, enthralling American life.
Jane Fonda emerged from a heartbreaking Hollywood family drama to become a 60s onscreen ingenue and then an Oscar-winning actress. At the top of her game she risked all, rising against the Vietnam War and shocking the world with a trip to Hanoi. Later, while becoming one of Hollywood's most committed feminists, she financed her husband Tom Hayden's political career in the 80s with exercise videos that began a fitness craze and brought in millions of dollars. Just as interesting is Fonda's next turn, as a Stepford Wife of the Gulfstream set, marrying Ted Turner and seemingly walking away from her ideals and her career.
Fonda's is a story of the blend of deep insecurity, magnetism, bravery, and determination that fuels the most inspiring and occasionally infuriating public lives. Finally here is Fonda and all the women she's been.

Praise For Jane Fonda: The Private Life of a Public Woman…
"Distinguished celebrity biographer and Vanity Fair contributing editor Bosworth recounds the life story of an American icon in all its heady--and at times, unabashedly scandalous--glory. With consummate skill and insight, the author follows Fonda... Bosworth's coverage of Fonda...is as epic as the life that she chronicles. Reading to savor."
-Kirkus, starred
"[Bosworth's]
remarkable reconstruction of long-ago events
has a fly-on-the-wall viewpoint, written with such intimacy that it sometimes generates the strange sensation of being present with Fonda and her friends...
Bosworth has succeeded in capturing Fonda's step-by-step transformation
from wide-eyed, apolitical ingenue to the poised personality of recent decades."
-
Publishers Weekly
, starred "Watching Jane Fonda wrestle with her many passions has been one of the most fascinating stories of the past fifty years. Brilliant, beautiful, achingly vulnerable, self-wounding and yet with a Joan of Arc sense of self-determination whenever she steps into the spotlight. Fonda is one of the greatest film stars to ever appear on the screen. Her life deserves to be re-evaluated as it is in Patricia Bosworth's
Jane Fonda: The Private Life of a Public Woman.
"
—Alec Baldwin "Patricia Bosworth has written an irresistible biography of the accomplished controversial actress whose roles on screen and off helped define a generation. Whether you love Jane Fonda or abhor her, the
Private Life of a Public Woman
is a detailed and generous exploration not only of the contradictory world Fonda grew up in but of the many people who shaped her."
—Jeannette Walls "Bosworth's expedition into every corner of Fonda's life makes for far more than a spellbinding biography. It sweeps the reader into a cultural history of the '60s, '70s, and '80s, when this female icon helped define the causes of the era. The access gained by Bosworth is impressive—lovers, stepmothers, and ex-husbands share their secrets, adding to what will certainly become the definitive portrait of a woman conflicted, torn between ferocious ambition, family, and feminist causes. Bosworth's rendering of Fonda's interior chaos becomes a revealing probe into the female psyche."
—Gail Sheehy, author of
Passages
"Patricia
Bosworth's brilliant detective work has unearthed so much about Jane Fonda that I didn't know—so much feeling, so much courage, so much hurt. Reading this book, it occurred to me that Fonda, despite her brilliant acting, despite her activism, despite her life led in the headlines, was really the archetypal woman of her generation: a woman torn between love and work, family and accomplishment. Bosworth's book is far from another Hollywood biography; it is a human portrait and, at the same time, a major American life. Reading this book, living Jane's life along with her, is an adventure and a pleasure."
—William Mann, author of
Kate: The Woman Who Was Hepburn
and
How to Be a Movie Star: Elizabeth Taylor in Hollywood
"Jane Fonda was born with beauty and talent, which brought her fame and wealth. Now she's blessed with a biographer who knows Hollywood and understands the human condition. Nothing about Fonda's life (her obsession with her looks, her lovers—male and female—her husbands, her money, and her elusive father) escapes the keen eye of Patricia Bosworth, who tells the life story of a cinema icon, one of the most intriguing women of our era. You will be enthralled from start to finish."
—Kitty Kelley, author of
Oprah: A Biography
"Gracefully written and deeply researched, Patricia Bosworth's Jane Fonda is not only a first-class biography but a thoughtful,sympathetic, yet objective, study of a central figure in the preoccupying drama of American celebrity life as it has been played out over the past half century."
—Richard Schickel, author of Conversations with Scorsese
"As an heiress to Hollywood royalty, survivor of childhood trauma, sexpot, movie star, fitness guru, activist, trophy wife, and serial self-reinventor, Jane Fonda has embodied every theme in modern American mythology. And I can't think of anyone better equipped to tell her story than Patricia Bosworth. Her superb reporting, combined with an equally sure understanding of what the details add up to, has produced a clear-sighted but sympathetic and compelling portrait of a woman who really is an emblem of our age."
—Amanda Vaill, author of
Everybody Was so Young
Advertisement