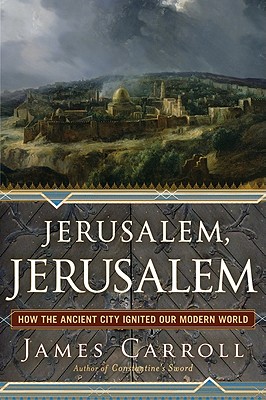 Jerusalem, Jerusalem (Hardcover)
How the Ancient City Ignited Our Modern World
Houghton Mifflin Harcourt, 9780547195612, 432pp.
Publication Date: April 1, 2011
* Individual store prices may vary.
or
Not Currently Available for Direct Purchase
Description
James Carroll's urgent, masterly "Jerusalem, Jerusalem" uncovers the ways in which the ancient city became a transcendent fantasy that ignites religious fervor unlike anywhere else on earth. That fervor animates American history as much as it does the Middle East, in the present as deeply as in the past. In Carroll's provocative reading of the deep past, the Bible came into being as an act of resistance to the violence that threatened Jerusalem from the start. Centuries later, holy wars burned apocalyptic Jerusalem into the Western mind, sparking expressly religious conflict among Jews, Christians, and Muslims. The heat stretched from Richard the Lionheart to Field Marshal Edmund Allenby, whose World War I conquest of the city relit the fuse for a war that still rages. Carroll's brilliant leap is to show how, as Christopher Columbus was dispatched from the Crusades-obsessed Knights Templar's last outpost in Iberia, the New World too was powerfully shaped by the millennial obsessions of the City on a Hill from Governor Winthrop to Abraham Lincoln to Woodrow Wilson to Ronald Reagan. Heavenly Jerusalem defines the American imagination and always, the earthly city smolders. Jerusalem fever, inextricably tied to Christian fervor, is the deadly unnamed third party to the Israeli-Palestinian wars. Understanding Jerusalem fever is the key that unlocks world history, and the diagnosis that gives us our best chance to reimagine peace.
Praise For Jerusalem, Jerusalem: How the Ancient City Ignited Our Modern World…
"A masterful look at the paradoxical city on a hill...a meditation unlike any book published this season, indeed a meditation for all seasons." - Boston Globe
"provocative" -
San Francisco Chronicle
"JERUSALEM, JERUSALEM [is] James Carroll's timely contribution to richer understanding of the conflict over this city....If you want to follow the twists and turns between Israelis and Palestinians over who may end up controlling what in the holy city and why, reading Carroll's book is a helpful place to begin." -
St. Louis Today
"[Jerusalem, Jerusalem brings a fresh interpretation of the city as well as the spiritual impetus of three monotheisitic religions' toehold in its long, bloody past....By reading this landmark book, those who think they know all there is to know about Jerusalem or the three religions that have coalesced around it will discover how much they didn't know."
-
Oklahoman
the compelling follow-up to [Carroll's] best-selling Constantine's Sword...his use of Jerusalem as a prism to examine the development of monotheism, and his prescription for what he believes might be a more positive future path, provide a powerful and provocative intellectual journey." -
BookPage
"one of the broadest and most balanced accounts of the city of King David in recent years...Conceptually profound, richly detailed, and wonderfully realized, this book brings to life the dynamic story of the Divided City." - STARRED,
Publishers Weekly
"Carroll's writing is so compelling, so beautifully constructed, that, ironically, the book can be a very slow read. There is something on almost every page that makes the reader want to stop and contemplate. For those meeting Jerusalem for the first time, this volume makes a stunning introduction. For others, who have struggled with the city's conundrums, either its symbolic meaning in the history of civilization or its place in the modern world, Carroll's reflections will add clarity if not closure." - STARRED,
Booklist
"A sound, deeply felt study of Jerusalem as the 'cockpit of violence' for the three Abrahamic religions....Another winner from a skillful writer and thinker of the first rank." -
Kirkus
"Carroll here explores not Jerusalem but the idea of Jerusalem—how, from the Crusades to Christopher Columbus's Jerusalem-centric view to the founding of Israel, the city has inspired passionate idealism and hence conflict....one of my nonfiction favorites." -
Library Journal
Advertisement