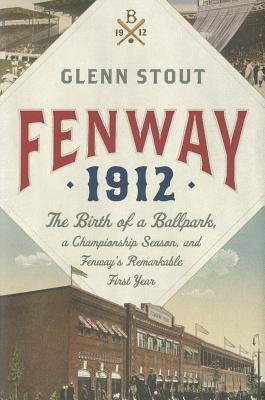 Fenway 1912 (Hardcover)
The Birth of a Ballpark, a Championship Season, and Fenway's Remarkable First Year
Houghton Mifflin Harcourt (HMH), 9780547195629, 392pp.
Publication Date: October 11, 2011
* Individual store prices may vary.
or
Not Currently Available for Direct Purchase
Description
"Each time you walk up the ramp from beneath the stands and out toward that sea of sunlit grass, Fenway Park remains the most special kind of place there is, a place that can still change your life."

"This is the untold story of how Fenway Park came to be and its remarkable first season. 1912 was a leap year, the year the Titanic sank, and it was also the year baseball's original shrine, the one and only Fenway Park, was born. While the paint was still drying, the infield grass still coming in, the Red Sox embarked on an unlikely season that culminated in a World Series battle against the Giants that stands as one of the greatest ever played.

Fenway 1912 tells the incredible story of Fenway, from the unorthodox blueprint that underlies the park's notorious quirks, to the long winter when locals poured concrete and erected history, to the notorious fixers who then ruled the game, to the ragtag team who delivered a world championship, Fenway's first.

For all that has been written in tribute to the great Fenway Park, no one has ever really told the behind-the-scenes true story of its tumultuous yet glorious first year. Drawing on extensive new research, the esteemed baseball historian Glenn Stout delivers an extraordinary tale of innovation, desperation, and perspiration - capturing Fenway as never before.
Praise For Fenway 1912: The Birth of a Ballpark, a Championship Season, and Fenway's Remarkable First Year…
"Stout imbues his account with a unique vibrancy and a razor-sharp intelligence. A wonderful sports book." -- Booklist, starred review   "A valuable addition to baseball history . . . Baseball diehards and historians, and of course Red Sox fans, will find much of interest in this paean to one of sport's most famous venues." -- Kirkus Reviews   "Fun and informative . . . A well-constructed tribute to Fenway on its upcoming 100th anniversary." -- Publishers Weekly "This is a book for anyone who cares about the storied Boston Red Sox, about their 100-year-old bandbox of a stadium, about the remarkable championship season of 1912, about the street-level history of Boston, and about why baseball will forever be the all-American pastime. This is a book for all of us." – Larry Tye, author of SATCHEL: The Life and Times of an American Legend
"Glenn Stout has done the impossible: he has put an end to the seemingly bottomless genre that is Fenway Park books. We now need no more. We get not pomp and circumstance, but the bones and blueprint of a legendary ballpark — topped with a star-filled World Series that still endures. He doesn't pretend history is straw hats and cigars, but gives you real people, real baseball and (the best part) real Boston, the way any real writer should."
–
Howard Bryant, ESPN, and author of The Last Hero: A Life of Henry Aaron
Advertisement