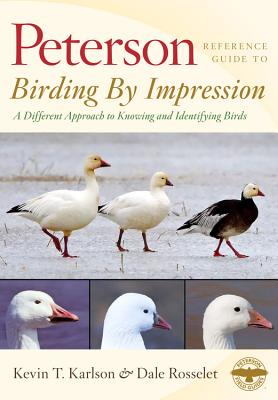 Peterson Reference Guide to Birding by Impression (Hardcover)
A Different Approach to Knowing and Identifying Birds (Peterson Reference Guides)
Houghton Mifflin Harcourt, 9780547195780, 304pp.
Publication Date: May 5, 2015
* Individual store prices may vary.
Description
A highly visual guide to identifying birds in the field based on the important, unchanging features of size, shape, structure, and behavior

Birding is an extremely rewarding and fun hobby, but some situations can be frustrating or unsuccessful because of a variety of challenging viewing conditions. This guide to identifying birds offers the holistic "birding by impression" method, which not only helps with these difficult conditions, but also develops an efficient mental identification process using left- and right-brain skills. It begins with a conscious assessment of a bird's unchanging physical characteristics, including general size, body shape, structural features (bill, legs, neck, and wings), and behavior. Using this approach, birders can quickly assess all birds and distinguish new and uncommon species from familiar ones. They can then examine more detailed field marks to fine-tune the identification. Rather than a traditional field guide, this book presents an interactive how-to approach to a more complete identification process.
 
About the Author
KEVIN T. KARLSON is an accomplished birder, tour leader, and wildlife photographer. He is a coauthor of The Shorebird Guide and two other books. He lives near Cape May, New Jersey. 
DALE ROSSELET is vice president for education for New Jersey Audubon and oversees the statewide education programs.