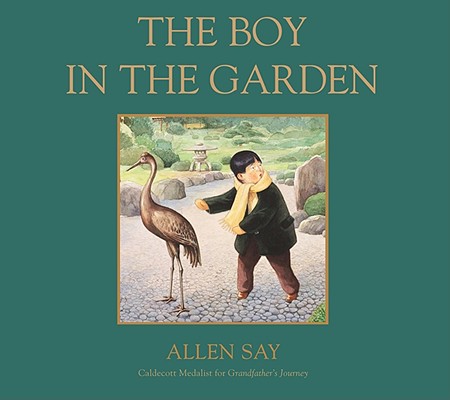 The Boy in the Garden (Hardcover)
HMH Books for Young Readers, 9780547214108, 32pp.
Publication Date: October 18, 2010
* Individual store prices may vary.
Description
There was a story that Mama read to Jiro:

Once, in old Japan, a young woodcutter lived
alone in a little cottage. One winter day he
found a crane struggling in a snare and set it
free.

When Jiro looks out the window into Mr. Ozu's
garden, he sees a crane and remembers
that story.

Much like the crane, the legend comes to
life—and, suddenly, Jiro finds himself in a
world woven between dream and reality.
Which is which?

Allen Say creates a tale about many things
at once: the power of story, the allure of
the imagined, and the gossamer line between
truth and fantasy. For who among us hasn't
imagined ourselves in our own favorite
fairy tale?
About the Author
Allen Say was born in Yokohama, Japan, in 1937. He dreamed of becoming a cartoonist from the age of six, and, at age twelve, apprenticed himself to his favorite cartoonist, Noro Shinpei. For the next four years, Say learned to draw and paint under the direction of Noro, who has remained Say's mentor. Say illustrated his first children's book -- published in 1972 -- in a photo studio between shooting assignments. For years, Say continued writing and illustrating children's books on a part-time basis. But in 1987, while illustrating THE BOY OF THE THREE-YEAR NAP (Caldecott Honor Medal), he recaptured the joy he had known as a boy working in his master's studio. It was then that Say decided to make a full commitment to doing what he loves best: writing and illustrating children's books. Since then, he has written and illustrated many books, including TREE OF CRANES and GRANDFATHER'S JOURNEY, winner of the 1994 Caldecott Medal. He is a full-time writer and illustrator living in Portland, Oregon.
Praise For The Boy in the Garden…
"A gently unsettling tale of the power of the imagination."—The Horn Book, starred review 
"Say is at the height of his artistic achievement in this tale of a little boy named Jiro and the powerful impact that a story has on him....This is a beautiful, moving, quietly mysterious read, ripe with possibilities for interpretation and contemplation."—Kirkus Reviews, starred review

"Caldecott Medalist Say (Grandfather's Journey), his work always painstaking and poignant, ventures tentatively into the realm of fantasy....Pale colors and expanses of empty space contribute to the feeling of haunted charm. Did Jiro dream? Possibly—or possibly not."—Publishers Weekly, starred review 
"Multilayered and compelling."—The Bulletin
Praise for other Allen Say books: 
Erika-san
"Aficionados of Say's tranquil work will find both the message and the delivery deeply satisfying."—Publishers Weekly, starred review
Kamishibai Man
"The quietly dramatic, beautifully evocative, tale contains a cliffhanger of its own, along with exquisite art in the style of Kamishibai picture cards that will attract even the most jaded kid away from the TV screen to enjoy a good, good book."—Booklist, starred review
Tea with Milk
"A thoughtful and poignant book that will appeal to a wide range of readers, particularly our nation's many immigrants who grapple with some of the same challenges as May and Joseph, including feeling at home in a place that is not their own."—School Library Journal, starred review
Tree of Cranes
"Tree of Cranes is the achievement of a master in his prime, one of the best picture books of this or any year."—The Horn Book, starred review
The Sign Painter
"In perhaps his best work to date . . . Say subtly and ingeniously blends a feeling of nostalgia with a hard-hitting immediacy. . . The images and the boy's passion as an artist will remain with [readers]."—Publishers Weekly, starred review
Grandfather's Journey
Winner of the Caldecott Medal
"Flawless in his executions, Say has chronicled three generations of a family whose hearts have been divided between two nations."—School Library Journal, starred review
or
Not Currently Available for Direct Purchase