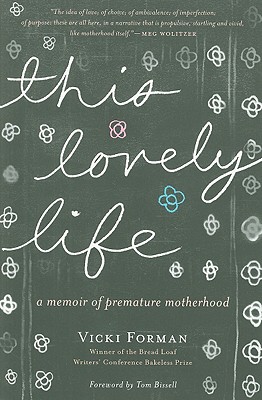 This Lovely Life
Paperback

* Individual store prices may vary.
Description
Vicki Forman gave birth to Evan and Ellie, weighing just a pound at birth, at twenty-three weeks' gestation. During the delivery she begged the doctors to "let her babies go" — she knew all too well that at twenty-three weeks they could very well die and, if they survived, they would face a high risk of permanent disabilities. However, California law demanded resuscitation. Her daughter died just four days later; her son survived and was indeed multiply disabled: blind, nonverbal, and dependent on a feeding tube.

This Lovely Life tells, with brilliant intensity, of what became of the Forman family after the birth of the twins — the harrowing medical interventions and ethical considerations involving the sanctity of life and death. In the end, the longdelayed first steps of a five-year-old child will seem like the fist-pumping stuff of a triumph narrative. Forman's intelligent voice gives a sensitive, nuanced rendering of her guilt, her anger, and her eventual acceptance in this portrait of a mother's fierce love for her children.

Praise For This Lovely Life…
"It would be difficult not to be stirred by Vicki Forman's story; but what makes This Lovely Life so good goes well past story and into idea, with which her book is so rich. The idea of love; of choice; of ambivalence; of imperfection; of purpose: these are all here, in a narrative that is propulsive, startling and vivid, like motherhood itself."
—Meg Wolitzer, author of The Ten-Year Nap

"Intimate, compelling, and hopeful—an absolutely important book.
—Rachel Simon, author of Riding in the Bus with My Sister

"Vicki Forman's This Lovely Life is its own kind of koan--a story about death that is full of life, a story about loss rich with things gained, a story of letting go, while at the same time holding on tightly to what we love best. Spare, bracing, lovely."—Jennifer Graf Groneberg, author of Road Map to Holland

"If such a heartbreaking story must be any parent's to tell at all, I'm thankful that it should fall to such a talented voice as Vicki Forman to bring it to the rest of us. Forman writes with sensitivity and clarity; her love is powerful and her eyes are wide open. This Lovely Life is a beautiful story of loss and love, and ultimately of understanding, one that left me shaken, haunted and deeply moved long after I finished reading."
—Robert Rummel-Hudson, author of Schuyler's Monster

"Forman's enormously affecting memoir…about the drastic disabilities of her extremely premature child poses challenging questions about parenthood and human compassion…. Forman portrays herself (sometimes shockingly) as deeply flawed and forgivingly human.
—Publishers Weekly, STARRED

"A searing tale of heartache and impressive depth of character" —Kirkus


Mariner Books, 9780547232751, 272pp.
Publication Date: July 23, 2009
About the Author
VICKI FORMAN's work has appeared in the Seneca Review and the Santa Monica Review as well as in the anthologies Love You to Pieces: Creative Writers on Raising a Child with Special Needs, This Day: Diaries from American Women, and Literary Mama: Reading for the Maternally Inclined. She lives in La Canada, California.