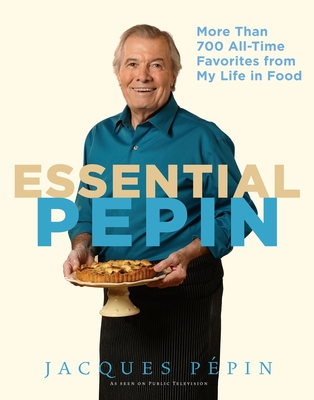 Essential Pépin
More Than 700 All-Time Favorites from My Life in Food
Hardcover

* Individual store prices may vary.
Description
For the first time ever, the legendary chef collects and updates the best recipes from his six-decade career. With a searchable DVD demonstrating every technique a cook will ever need.

In his more than sixty years as a chef, Jacques Pépin has earned a reputation as a champion of simplicity. His recipes are classics. They find the shortest, surest route to flavor, avoiding complicated techniques.

Now, in a book that celebrates his life in food, the world's most famous cooking teacher winnows his favorite recipes from the thousands he has created, streamlining them even further. They include Onion Soup Lyonnaise-Style, which Jacques enjoyed as a young chef while bar-crawling in Paris; Linguine with Clam Sauce and Vegetables, a frequent dinner chez Jacques; Grilled Chicken with Tarragon Butter, which he makes indoors in winter and outdoors in summer; Five-Peppercorn Steak, his spin on a bistro classic; Mémé's Apple Tart, which his mother made every day in her Lyon restaurant; and Warm Chocolate Fondue Soufflé, part cake, part pudding, part soufflé, and pure bliss.

Essential Pépin spans the many styles of Jacques's cooking: homey country French, haute cuisine, fast food Jacques-style, and fresh contemporary American dishes. Many of the recipes are globally inspired, from Mexico, across Europe, or the Far East.

In the accompanying searchable DVD, Jacques shines as a teacher, as he demonstrates all the techniques a cook needs to know. This truly is the essential Pépin.   
 
Praise For Essential Pépin: More Than 700 All-Time Favorites from My Life in Food…
"A must-have for any cookbook fan."
--Edward Ash Millby for USA Today "...simple without being dumbed down; approachable yet still adventurous... Whether he's explaining how to make Escoffier quenelles with mushroom sauce, black sea bass gravlax...or tarte tatin, [Pepin] makes it seem doable and shares tidbits of wisdom to boost confidence and kitchen knowledge... For serious cooks and beginners alike, this is an instant classic that would enhance almost any collection."
-Publishers Weekly, starred "Jacques Pépin has been a constant inspiration to me. This book is a distillation of the very best of his creations, showing both the remarkable breadth of his cooking and the beautiful continuity of his dishes over the past sixty years. He makes food the way it should be made: Simple, seasonally ripe, pure, and impossible to resist."
—Alice Waters "Jacques Pepin is The Master. The undisputed authority on . . . well, just about everything relating to food. If Jacques Pepin tells you this is the way to make an omelet — or to roast a chicken, then for me, the matter is settled. As with all his works, this is a vital, essential volume that should live in your kitchen forever. Nobody knows more or does it better."
—Anthony Bourdain "If there's a 'best of the best' in cookbooks, this is it--a lifetime of greatest hits from our favorite ambassador of French cuisine. These recipes are more than just mouthwatering; they are as lively, unpretentious, and appealing as the man behind them, reminding us (as if we needed reminding) why we fell in love with French food, and with Jacques Pépin, in the first place. An essential collection from an essential chef."
—Dan Barber "Jacques Pepin is a true artist and a masterful one at that. His commitment to excellence and dedication to quality education are evident throughout his storied career. Essential Pepin reflects his incredible body of work in what feels like an important literary achievement, and we, his pupils, are ever so fortunate to benefit from the breadth of knowledge within its pages. I often find that with Jacques Pepin, whether in print or on television, I walk away from my time with him having learned a little something more, and I feel a bit richer for that."
—Lidia Bastianich —
Harvest, 9780547232799, 704pp.
Publication Date: October 18, 2011
About the Author
The winner of sixteen James Beard Awards and author of more than thirty cookbooks, including The Apprentice, Essential Pépin, and Jacques Pépin Quick & Simple, JACQUES PEPIN is a chef, author, television personality, educator, and artist who has starred in 12 acclaimed PBS cooking series. His dedication to culinary education led to the creation of the Jacques Pépin Foundation in 2016.