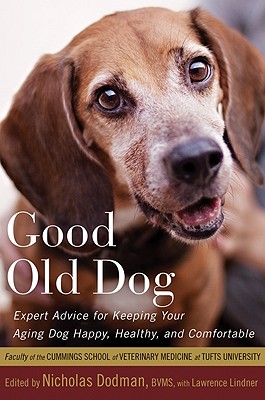 Good Old Dog: Expert Advice for Keeping Your Aging Dog Happy, Healthy, and Comfortable (Hardcover)
Expert Advice for Keeping Your Aging Dog Happy, Healthy, and Comfortable
Houghton Mifflin Harcourt, 9780547232829, 288pp.
Publication Date: November 1, 2010
* Individual store prices may vary.
or
Not Currently Available for Direct Purchase
Description
Our dogs are living longer than ever thanks to enormous advances in medical treatment anda highly evolved understanding of whatthey need to thrive.No one knows this betterthan the faculty of theCummings Veterinary School at Tufts, who treat more than 8,000 older dogs annually.Their philosophy of caring for aging dogs combines empathy for each individual dog and owner, a comprehensive approach to patient care, cutting-edge science and technology, and a commitment to innovation. Good Old Dog brings their renowned clinic into your living room, arming you with essential advice to see your dog through his golden years.Featuring Nutritional advice not every senior diet is right for every senior dog Emphasis on treating conditions common to older dogs so they live longer How to evaluate complicated procedures and decide what's right for your dog The cost of caring for an older dog and how toshoulder the burden How to identify cognitive decline and how to manage it Advice on creating a healthy and comfortable environment How to determine when it's time and how to cope with the loss And much more.
Praise For Good Old Dog: Expert Advice for Keeping Your Aging Dog Happy, Healthy, and Comfortable…
"A must read for pet lovers who want to ensure their dog has quality golden years." 
 —  USA Today
"Sure to become the most important resource you can have to guide you through your dog's senior years. The advice gathered from the leading experts at the Cummings School of Veterinary Medicine at Tufts University is presented by Dodman in a convivial and reassuring voice. This book will take the mystery out of caring for an aging dog." 

—  The Bark

"A great book on a very important subject.  Having recently lost my 16 1/2 year old Shi Tzu...it really hit home."
—Betty White, actress and animal activist 

" Essential reading for making treatment decisions for your companion.  GOOD OLD DOG offers lots of practical, easy to understand advice about veterinary care for older dogs.

—Temple Grandin, author Animals Make us Human and Animals in Translation

"Everyone with an aging dog should have this book…. The idea behind Good Old Dog is that old age is not a condition but rather it is a stage of life. With clear, insightful recommendations and examples it helps you deal with the issues associated with a puppy that can now be considered to be a senior citizen." 

—Stanley Coren, PhD, FRSC, author of The Modern Dog

"If you love your aging dog, you want his golden years to be as happy and healthy as possible.  This unique book will help dog owners understand the best health care options for aging pets. It contains the accumulated knowledge and experience of a group of Board Certified Veterinary specialists.  This is a must-read for dog owners."
—Bash Dibra, internationally acclaimed animal behaviorist, celebrity dog trainer and author of six books including Star Pet
"Written by experts in their fields, "Good Old Dog" provides a timely and complete reference for every owner who wants to take the best possible care of their well-loved older dog"
— Dr. Nick Trout, veterinary surgeon and author of Tell Me Where It Hurts and Love is the Best Medicine.
Advertisement