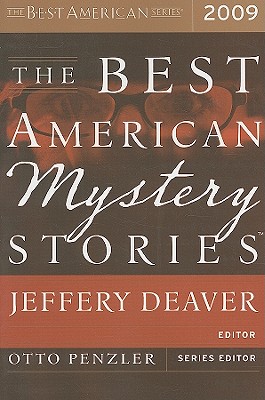 The Best American Mystery Stories 2009 (The Best American Series ®) (Paperback)
Mariner Books, 9780547237503, 400pp.
Publication Date: October 8, 2009
* Individual store prices may vary.
Description
Best-selling novelist Jeffery Deaver edits this latest collection of the genre's finest from the past year. Featuring "gritty tales told with panache," this is a "must-read for anybody who cares about crime stories" (Booklist).
About the Author
OTTO PENZLER is a renowned mystery editor, publisher, columnist, and owner of New York's The Mysterious Bookshop, the oldest and largest bookstore solely dedicated to mystery fiction. He has edited more than fifty crime-fiction anthologies. He lives in New York.
Praise For The Best American Mystery Stories 2009 (The Best American Series ®)…
Series editor Penzler's preference for trolling literary journals instead of relying on the usual mystery magazines and anthologies pays big dividends.Not a single one of the 20 reprints here is a dud. Standouts among the stories produced by mystery veterans are James Lee Burke's parable of a prison-camp inmate who refuses to box ("Big Midnight Special"); Chuck Hogan's account of the hamburger that will be a condemned convict's last meal ("Two Thousand Volrs"); and Kristine Kathrine Rusch's historical fantasy of a killer whose methodical execution of FBI agents reaches all the way to the top ("G-Men"). But there's excellent, if more formulaic work by Clark Howard, Rob Kantner, Robert McClure and Michael Connelly. "Free Radicals," Alice Munro's unexpected riff on a classic Agatha Christie story, tops the literary side, which provides a good deal more variety: Tom Bissell's portrait of a modern superhero ("My Interview with the Avenger"); Ron Carlson's tale of a Guatemalan baseball phenom whose fate is fatally linked to his scout's ("Beanball"); M.M.M. Hayes's depiction of a crusty old gentleman's unusual strategies for coping with change and death ("Meantime, Quentin Ghlee"); Randy Rohn's droll, creepy account of "The Man Who Fell in Love with the Stump of a Tree"; Jonathan Tel's story about a trucker whose life is upended by an accusation of rape and murder ("Bola de la Fortuna"); and series favorite Joyce Carol Oates' "Dear Husband," the feverish confession of a dying family-killer. N.J. Ayres, Alafair Burke, David Corbett, Nic Pizzolatto, Gary Craig Powell and Vu Tran round out the diverse list.A choice mix of solid work from mystery specialists and one-shots from authors who'd never want to be identified with the genre.
— Deaver/Penzler
STARRED The Best American Mystery Stories 2009 Edited by Jeffery Deaver. Houghton Mifflin Harcourt/Mariner, $14 paper (400p) ISBN 978-0-547-23750-3
Like previous anthologies in this "best of" series, the impressive 13th volume favors crime stories over whodunits. As series editor Otto Penzler notes in his foreword, "it has become increasingly difficult to find... a new murder method, or an original way to hide a vital clue" (though some may wonder why Deaver passed over Hal White's impossible crime puzzler, "Murder at the Fall Festival," listed in the appendix of "Other Distinguished Mystery Stories of 2008"). Readers interested in psychology will be more than satisfied by such tales as Joyce Carol Oates's "Dear Husband," a heartrending first-person account of a mother who slaughtered her children, and Tom Bissell's "My Interview with the Avenger," about a vigilante superhero. As always, part of the pleasure derives from exposure to writers who have yet to gain the acclaim they deserve, such as Randy Rohn ("The Man Who Fell in Love with the Stump of a Tree") and Jonathan Tel ("Bola de la Fortuna"). (Oct.)
— Publisher's Weekly