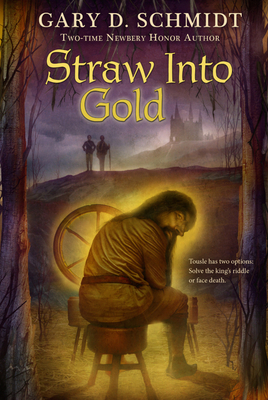 Straw into Gold
Paperback

* Individual store prices may vary.
Description
What fills a hand fuller than a skein of gold? By order of the king, two boys, Tousle and Innes, must find the answer to this puzzling riddle within seven days or be killed. A former nursemaid to the queen's child tells the boys that the banished queen may have the answer they seek. Danger presents itself at every turn, for the boys are pursued by the Great Barons, who are secretly plotting against the king. Another pursuer, the greedy King's Grip, reveals a strange story of a little man who once spun straw into gold of incredible beauty for the queen but then disappeared with her firstborn son. Tousle realizes that the man he calls Da is the strange little man and, even more amazing, that he himself may be the lost prince. Or could it be Innes, who although cruelly blinded can hear the music of the dawn?
This skillful blend of fantasy and adventure reveals what might have happened before the queen makes her third and last guess and the story of Rumpelstiltskin—as we know it—ends.
Praise For Straw into Gold…
Richly drawn characters and evocative language enhance a novel that's tightly constructed and emotionally resonant. The Bulletin of the Center for Children's Books

What would have happened if the queen failed to guess Rumpelstiltskin's name and the odd little man had taken her child? Why did he want the young prince? Was his motivation selfish, or could he have been preotecting the child from life-threatening danger? Imaginative answers to these questions skillfully blossom into a fantasy-flavored quest. . . .A good book to recommend to fans of Lloyd Alexander, Diane Wynne Jones and J.R.R. Tolkein.
School Library Journal

In this touching, dark story Schmidt extends the tale of Rumpelstiltskin to explore what might have happened if the queen had not guessed Rumpelstiltskin's name correctly. "What fills a hand fuller than a skein of gold?" So begins a suspenseful quest that adds surprising twists and turns to the traditional fairy tale. Booklist, ALA

What if Rumpelstiltskin's motives were noble?
Answering that question, this novel spins the story of a blind boy who unexpectedly inherits a kingdom, a weakling who becomes strong, a common queen who becomes regal, and a kind orphan who tells their tale. Evil lords and peasants abound, with enough magic to glue together these scattered pieces.
Horn Book Guide

Schmidt does a fine job of weaving the classic tale of Rumpelstiltskin into something fresh, diverse, and lovely.
VOYA (Voice of Youth Advocates) —
Clarion Books, 9780547237763, 176pp.
Publication Date: April 20, 2009
About the Author
Gary D. Schmidt is the best-selling author of many books for young readers, including Just Like That; National Book Award finalist Okay for Now; Pay Attention, Carter Jones; Orbiting Jupiter; the Newbery Honor and Printz Honor Book Lizzie Bright and the Buckminster Boy; and the Newbery Honor Book The Wednesday Wars. He is a professor of English at Calvin University in Grand Rapids, Michigan.