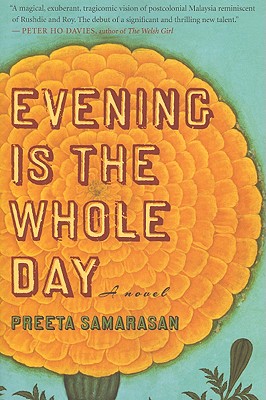 Evening Is The Whole Day
Paperback

* Individual store prices may vary.
Description
Set in Malaysia, this spellbinding and already internationally acclaimed debut introduces us to the prosperous Rajasekharan family as its closely guarded secrets are slowly peeled away.

When Chellam, the family's rubber-plantation-bred servant girl, is dismissed for unnamed crimes, her banishment is the latest in a series of recent, precipitous losses that have shaken six-year-old Aasha's life. A few short weeks before, Aasha's grandmother Paati passed away under mysterious circumstances and her older sister, Uma, departed for Columbia University—leaving Aasha alone to cope with her mostly absent father, her bitter mother, and her imperturbable older brother.

Beginning with Aasha's grandfather's ascension from Indian coolie to illustrious resident of the Big House on Kingfisher Lane, and going on to tell the story of how Appa, the family's Oxford-educated patriarch, courted Amma, the humble girl next door, Evening Is the Whole Day moves gracefully backward and forward in time to answer the many questions that haunt the family: What was Chellam's unforgivable crime? Why was Uma so intent on leaving? How and why did Paati die? What did Aasha see? And, underscoring all of these mysteries: What ultimately became of Appa's once-grand dreams for his family and his country?

Sweeping in scope, sumptuously lyrical, and masterfully constructed, Evening Is the Whole Day offers an unflinching look at relationships between parents and children, brothers and sisters, the wealthy and the poor, a country and its citizens—and the ways in which each sometimes fails the other. Illuminating in heartbreaking detail one Indian immigrant family's secrets and lies while exposing the complex underbelly of Malaysia itself, Preeta Samarasan's debut is a mesmerizing and vital achievement sure to earn her a place alongside Arundhati Roy, Kiran Desai, and Zadie Smith.
Praise For Evening Is The Whole Day…
"... a surpassingly wise and beautiful debut novel about the tragic consequences of the inability to love." Booklist, ALA, Starred Review

"(a) delicious first novel...Samarasan's fabric is gorgeous. Her ambitious spiraling plot, her richly embroidered prose, her sense of place, and her psychological acuity are stunning. Readers, responding to the setting, will immediately compare her to Kiran Desai. I think Smarasan's dialogue and description are reminiscent of Eudora Welty, another woman who knew how to write about family and race and class and secrets and heat." The New York Times Book Review —
Mariner Books, 9780547237893, 352pp.
Publication Date: May 12, 2009
About the Author
PREETA SAMARASAN was born and raised in Malaysia, but moved to the United States in high-school. She received her M.F.A. from the University of Michigan and was the recipient of the Asian American Writer's Workshop/Hyphen Magazine short-story award.
The Big House is introduced before any of the human characters, almost as though a character itself. How does the Big House bear witness to changes in the family, to the history of the land, and to changing politics? Describe how it also witness power struggles between rich and poor, British, Indian, Chinese and Malaysian, the traditional and the new.
The author describes Ipoh, Malaysia and observes that it "must have reminded the old British rulers of their faraway land." (Page 2). Why do you think the author refers to the colonial rulers instead of simply comparing Ipoh to the United Kingdom? Do you think the Rajasekharan family identifies more with the British rulers, or the natives? Use examples from the novel to support your opinion.
Amma keeps Aasha and Suresh at the table to witness Chellam's departure, and Appa interprets this as her way of teaching a lesson: how people can turn against you even after you've helped them. Identify other examples or situations that might offer proof of the same lesson and discuss your feelings about this sentiment.
As Aasha longingly follows the "new Uma" around the house, she describes an "aching, violent dusk that has come to seem the permanent state of the whole year."Why do you think she feels this way? Does this shed any light on the book's title? Why or why not?
Watching Uma pack for her departure to America, Aasha thinks about "what people take and what they leave behind" and about "how much room there is in a suitcase." Discuss the significance of these thoughts as they relate to the events of the novel.
How do you think Amma's humble beginnings affect her worldview, and later, her judgment of Chellam and the servants? Does her own past make her more empathetic or expectant of her servants?
When Paati disapproves of Amma, Appa demands, "you will treat her with the same respect you owe any human being." This exemplifies his beginnings as an idealist, wanting to change the world. Why do you think he gives up these ideals? Discuss what he gains and/or looses by doing so.
Appa seems to be a forgiving person at home. But the author writes, "His job is to believe in guilt where guilt is assigned" as he goes over a rape and murder case. Does Appa's career of "believing in guilt" make it easier for him forgive it at home? What crimes is he, himself, guilty of? How might those wrongdoings affect his resolve as a prosecutor?
We learn that Amma is "tired of life and death and truth and lies, of betrayals and loyalties, of youth and age. Of blame and blamelessness and the long, winding road between them." She is tired of the words "not my fault." What does this tell you about her character, her family, and their attitudes? Do you think there is a deeper meaning to these "three false words?"
Paati promises Uma to always take care of her. Discuss why Uma feels Paati has broken this promise and Uma's subsequent reaction. Why do you think Uma tells Aasha to promise never to ask for or make a promise again?
Why do you think Aasha lies about Paati? Why does Suresh believe she lied? Describe how other members of the family interpret the situation.
Appa successfully convicts the wrong person of rape and murder. Over and over we find members of the family taking their frustrations out on the wrong people. Identify some examples of misplaced frustrations and discuss how the underlying themes of guilt versus innocence, truth versus lies, and fact versus rumor relate.
What does Uncle Ballroom see that prompts him to think, "I'm tired of always being the one who sees too much?" Do you think Aasha is similar to her uncle in this regard? Why or why not?
After traveling to the United States, Uma never writes. It is up to the family members to dream up her adventures for themselves, imagining "whatever answers the particular needs of each imaginer." We are given Appa's version of Uma's life in America. Describe how you think that story would differ if told from the perspectives of Aasha, Suresh, Amma, and Chellam.