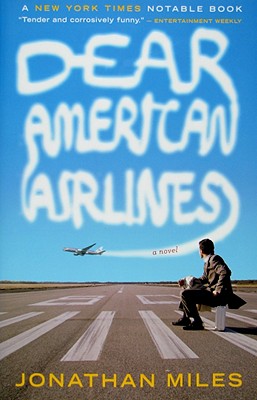 Dear American Airlines
A Novel
Paperback

* Individual store prices may vary.
Other Editions of This Title:
Digital Audiobook (6/4/2008)
MP3 CD (6/5/2008)
Compact Disc (6/5/2008)
Compact Disc (6/5/2008)
Description
Sometimes the planes don't fly on time.

Bennie Ford, a fifty-three-year-old failed poet turned translator, is traveling to his estranged daughter's wedding when his flight is canceled. Stuck with thousands of fuming passengers in the purgatory of O'Hare airport, he watches the clock tick and realizes that he will miss the ceremony. Frustrated, irate, and helpless, Bennie does the only thing he can: he starts to write a letter. But what begins as a hilariously excoriating demand for a refund soon becomes a lament for a life gone awry, for years misspent, talent wasted, and happiness lost. A man both sinned against and sinning, Bennie writes in a voice that is a marvel of lacerating wit, heart-on-sleeve emotion, and wide-ranging erudition, underlined by a consistent groundnote of regret for the actions of a lifetime -- and made all the more urgent by the fading hope that if he can just make it to the wedding, he might have a chance to do something right.

A margarita blend of outrage, wicked humor, vulnerability, intelligence, and regret, Dear American Airlines gives new meaning to the term "airport novel" and announces the emergence of major new talent in American fiction.
Praise For Dear American Airlines: A Novel…
"[Dear American Airlines] a heartfelt exploration of one man's psychic deterioration and the slim reed of hope to which, miraculously, he still clings...Miles has created a human being adrift, like all of us, in circumstances mostly not of his making and with no other choice but to try to muddle through." -- David Ulin, Los Angeles Times —
Harper Perennial, 9780547237909, 192pp.
Publication Date: June 2, 2009
About the Author
JONATHAN MILES's first novel, Dear American Airlines, was named a New York Times Notable Book and a Best Book of the Year by the Los Angeles Times and the Wall Street Journal. A former columnist for the New York Times, he serves as a contributing editor to magazines as diverse as Field & Stream and Details, and writes regularly for the New York Times Book Review and The Literary Review (UK). A former longtime resident of Oxford, Mississippi, he currently lives with his family in rural New Jersey.
Bennie addresses his letter to American Airlines as though the large corporation were an individual. Identify the ways in which Bennie seeks to draw comparisons between himself and American Airlines. How else does he attempt to put a more human face on the recipient of his lament?
Bennie writes, "to translate a literary work is to make love to a woman who will always be in love with someone else. You can ravish her, worship her, even ruin her; but she'll never be yours to possess…the novelist or poet has the more Godly job." What do you think he means by this? How do you think this metaphor applies to other aspects of Bennie's life beyond his job? What is the significance of Bennie's abandonment of poetry to work as a translator for others' work, given this opinion?
Why do you think the author chose the story of Walenty, a fictional soldier in the novel Bennie is translating, as a foil for Bennie's own story? Compare and contrast these two protagonists. For example, Walenty struggles with the amputation of his leg and its replacement with a wooden one. What does Bennie say has been amputated from his own life?
Bennie muses that, "the right word matters…the wrong ones infect, spread disease. Words are everything." How have words held significance throughout Bennie's life? Compare and contrast the way he has used or abused spoken words versus written words, and the way each has influenced him.
Beyond the unfortunately commonplace scenario of cancelled flights, the novel contains many references to current political events, cultural phenomena, and familiar brand names. Why might an author choose to use real names and events rather than make them up or avoid using them all together? What effect does this choice have on how you experience the novel?
Dear American Airlines is filled with allusions to traps and escapes. Identify some of these moments, both real and metaphoric. Who feels that they are trapped? Who longs for escape? Discuss how these feelings play a role in the lives of the characters that express or experience them.
Bennie relays a passage from the novel he is translating in which Walenty explains to a New Zealand officer of Trieste: "This is someplace else." But the colonel replies, "Not anymore." What does this exchange mean? Why does Walenty so badly need Trieste to be "someplace else?" Is Bennie also looking for "someplace else?" Do you think he finds it? Why or why not?
Bennie seems to feel that he has wasted his life and made all the wrong choices—that the weight of his inactions is so burdensome he wishes to escape it by committing suicide. In fact, he has tried to kill himself once already. But Bennie's mistakes seem to be bigger than mere missteps: knowing his family history [note: alcoholism and bipolar disorder frequently go hand in hand], how much control do you think Bennie has really had in his life? Are you more or less sympathetic to his character given the details of his childhood? Explain your opinion.
The format of the novel is unique but familiar: a long, continuous letter written by Bennie to complain and request a refund from American Airlines, whose cancellation of several flights has left hundreds of people stranded at O'Hare airport. Why do you think the author chose this format? How does this structure contribute to your reading experience?
Bennie ultimately concludes that maybe there are no better fates than the path you've chosen. "You can't escape what you are be it a possum or poet. Maybe you get what you get," he writes. What do you think?
The novel concludes with the statement, "There was no Free State of Trieste and there never could be." What is the significance of this moment for Walenty, and likewise for Bennie? Do you think Bennie has changed over the course of the novel? Why does he choose to forego his refund after all?