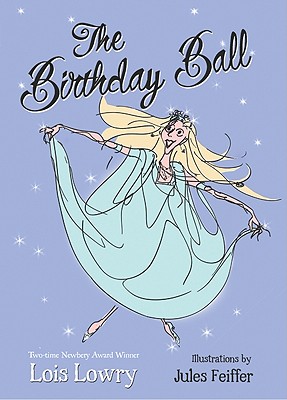 The Birthday Ball (Hardcover)
Houghton Mifflin, 9780547238692, 186pp.
Publication Date: April 12, 2010
* Individual store prices may vary.
or
Not Currently Available for Direct Purchase
Description
Princess Patricia Priscilla is bored with her royal life and the excitement surrounding her sixteenth birthday ball. Doomed to endure courtship by three grotesquely unappealing noblemen, she escapes her fatefor a week. Disguised as a peasant, she attends the village school as the smart new girl, Pat, and attracts friends and the attention of the handsome schoolmaster. Disgusting suitors, lovable peasants, and the clueless king and queen collide at the ball, where Princess Patricia Priscilla calls the shots. What began as a cure for boredom becomes a chance for Princess Patricia Priscilla to break the rules and marry the man she loves.
About the Author
Lois Lowry is known for her versatility and invention as a writer. She was born in Hawaii and grew up in New York, Pennsylvania, and Japan. She is the author of more than thirty books for young adults, including the popular Anastasia Krupnik series. She has received countless honors including Newbery Medals for two of her novels, NUMBER THE STARS and THE GIVER. Ms. Lowry now divides her time between Cambridge and an 1840s farmhouse in Maine. To learn more about Lois Lowry, see her website at www.loislowry.com
Praise For The Birthday Ball…
"Lowry, who has often turned to new genres and made them her own, now freely adopts certain conventions of the romantic fairy tale to create a fresh story buoyed by wry wit and occasional schoolyard humor. The many idiosyncratic characters are drawn with swift, sure strokes in both the writing and in Feiffer's inimitable ink drawings, notable for their economy and assurance of line as well as their pitch-perfect expression of personality, attitude, and emotion. An original fairy tale with a decidedly comical twist."—Booklist, starred review

"Lowry uses her knack for cleverly turning familiar stories on their heads (last seen in The Willoughbys) in this tale about a princess who's utterly bored with privileged palace life...Throughout, Feiffer's wiry ink illustrations paint the characters in offhand caricatures, adding to the merriment. Employing elements from the "Prince and the Pauper" as well as ample doses of humor and slapstick, Lowry sets the stage for a rowdy denouement."—Publishers Weekly
"This is a captivating but gentle fairy tale with memorable characters and wonderfully swirly, evocative, energetic character sketches by the fabulous Feiffer."—School Library Journal
"In her clever fairy-tale reconstruction, Lowry transforms the traditional princess into a refreshingly egalitarian heroine with a mind of her own. The hilarious, original and truly loathsome suitors are aptly memorialized in Feiffer's spritely black-and-white caricature illustrations. Guaranteed to generate giggles and guffaws."—Kirkus Reviews
"A lighthearted concoction overflowing with wordplay and alliteration. . . . [Readers] will laugh themselves silly."—New York Times Book Review

"Lowry draws on wicked humor, sly wordplay and stock characters to propel this pleasantly predictable romp . . .[she] again proves her range."—San Francisco Chronicle

"Newbery Medalist Lois Lowry and acclaimed illustrator Jules Feiffer throw one not-to-be-missed party witih The Birthday Ball"—Family Fun Magazine
"Feiffer's frenetic lines and distinctive caricatures maintain the offbeat tone while adding a charming quirkiness in their own right. Youngsters who like thier fair share of mischief will get a kick out of this fractured fairy tale either on their own or as a readaloud."—
The Bulletin
"Happiness radiates out from the Birthday Ball, zings down to the village and up again. A great story when read aloud."—Chicago Tribune
Advertisement