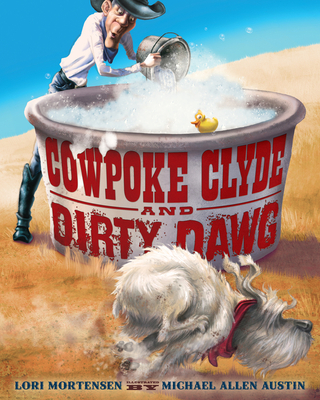 Cowpoke Clyde and Dirty Dawg (Hardcover)
Clarion Books, 9780547239934, 32pp.
Publication Date: May 14, 2013
Description
Cowpoke Clyde's house was completely clean--he'd even shooed off the horseflies: "Then right behind his cookin' pot, / he spied one thing he'd plumb forgot: / ol' Dawg, his faithful, snorin' friend, / all caked with mud from end to end." Needless to say, Dawg wakes up and runs. The chase that follows--with page-turn surprises--makes for a hilarious shaggy-dog story involving fleas, a hog, bribery, cats, deception, and a mule. The rhyming stanzas are pitch-perfect, Texas-style, and plumb near cry out to be read aloud. Austin's expressive acrylic and colored-pencil caricatures of Cowpoke Clyde and his menagerie are priceless. A storytime shoo-in.
Advertisement