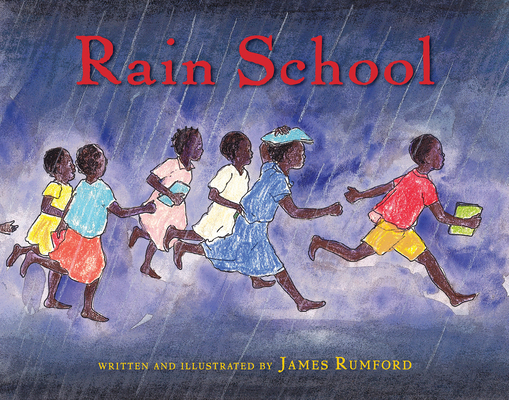 Rain School
Hardcover

* Individual store prices may vary.
Description
It is the first day of school in Chad, Africa. Children are filling the road.
"Will they give us a notebook?" Thomas asks. "Will they give us a pencil? Will I learn to read?"
But when he and the other children arrive at the schoolyard, they find no classroom, no desks. Just a teacher. "We will build our school," she says. "This is our first lesson."
James Rumford, who lived in Chad as a Peace Corps volunteer, fills these pages with vibrant ink-and-pastel colors of Africa and the spare words of a poet to show how important learning is in a country where only a few children are able to go to school.
Praise For Rain School…
"While serving as a Peace Corps volunteer, Rumford was a teacher in Chad, and the authentic details illuminate the spare text and beautiful artwork. On double-page spreads, the colored-pencil, ink, and pastel images echo the words' elemental rhythms as they contrast golden-hued portraits of the children happily learning with dark, rain-drenched scenes of the school disappearing. The building eventually vanishes, but "it doesn't matter. The letters have been learned and taken away by the children."...Without a heavy message, this spare and moving offering will leave kids thinking about the daily lives of other young people around the world."—Booklist, starred review

"The illustrations are dramatic and inviting, with the black linework strong yet casual and nimble in its delineation of the excited kids and their self-built surroundings; more immediately striking is the array of bright colors, in mottled, strongly resisting pigments that sometimes suggest fresco, sometimes crayon, against the richly textured sandy-gold walls of the mud school. The notion that school on the other side of the world is both different and similar will be interesting to schoolgoers and aspirants, and this could elicit discussion about other kinds of ways schools could and do work."—The Bulletin —
Clarion Books, 9780547243078, 32pp.
Publication Date: October 25, 2010
About the Author
Master storyteller James Rumford combines his love for art and history in his picture books. Each of his books is vastly different in its content, design, and illustrations but one aspect remains constant throughout his work: his passion about his subjects. Rumford, a resident of Hawaii, has studied more than a dozen languages and worked in the Peace Corps, where he traveled to Africa, Asia, and Afghanistan. He draws from these experiences and the history of his subject when he is working on a book. His book Sequoyah: The Cherokee Man Who Gave His People Writing was a 2005 Sibert Honor winner.