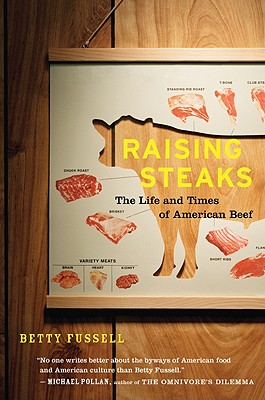 Raising Steaks (Paperback)
The Life and Times of American Beef
Mariner Books, 9780547247694, 416pp.
Publication Date: October 22, 2009
Other Editions of This Title:
Hardcover (1/1/2008)
* Individual store prices may vary.
Description
When we bite into a steak's charred crust and pink interior, we bite into contradictions that have branded our nation from the start. We taste the competing fantasies of British pastoralists and Spanish ranchers that erupted in land wars between a wet-weather East and a desert West. We savor the ideas of wilderness and progress that clashed when we replaced buffalo with cattle, and then cowboys with industrial machines. We witness rugged individualism and corporate technology collide when we breed, feed, slaughter, package, and distribute the animals we turn into meat. And we participate—like the cattlemen, chefs, feedlot operators, and scientists Fussell talks with—in the mythology that inspires cowboys to become technocrats and presidents to play cowboy.
A celebration and an elegy for a uniquely American Dream, Raising Steaks takes an "unflinching look at the ethical and environmental implications of modern meat ... yet leaves us with a powerful hankering for a thick T-bone grilled rare"--Michael Pollan
About the Author
BETTY FUSSELL is the author of ten previous books, including The Story of Corn and My Kitchen Wars. A contributor to the New York Times, the New Yorker, Saveur, Food & Wine, Gastronomica, and other publications, she has also lectured widely on food history. Western born, she lives in New York City.
Praise For Raising Steaks: The Life and Times of American Beef…
PRAISE FOR THE STORY OF CORN
"Fussell . . . is totally and passionately in love with corn, and she treats it the way Cecil B. DeMille treated a Bible story--with zest and romance and hordes of gorgeously costumed extras."--The New York Times Book Review
"Fussell . . . can get away with phrases like 'the sexiness of corn' . . . The way she writes about it, is is--hypnotic, alluring, sustaining, and not a little bit mysterious."--Los Angeles Times