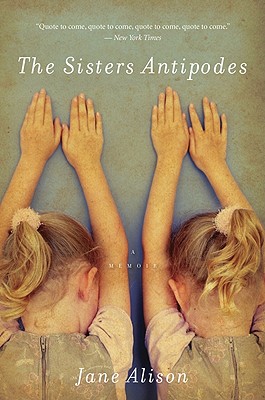 The Sisters Antipodes
Paperback

* Individual store prices may vary.
Description
A gorgeous and deeply intimate memoir about families breaking apart
When Jane Alison was a child, her family met another that seemed like its mirror: a father in the Foreign Service, a beautiful mother, and two little girls, the younger two (one of them Jane) sharing a birthday. The families became inseparable almost instantly. Within months, however, affairs ignited between the adults, and before long the parents exchanged partners, then divorced, remarried, and moved on. Two pairs of girls were left in shock, a "silent, numb shock, like a crack inside stone, not enough to split it but inside, silently fissuring" that would prove tragic.
Praise For The Sisters Antipodes…
PRAISE FOR THE SISTERS ANTIPODES

"'My family will not welcome this,' predicts Jane Alison about her fairy tale–like memoir, The Sisters Antipodes, but her haunting story is one that truly compels telling. … Alison's writing is pointed and poignant, sprinkled with breathtaking intuitions … her memoir seems less a breach of family ties than an act of bravery." -- Elle

"An incomparable personal story exquisitely, stunningly told." -- Kirkus Reviews (starred review)

"From its calm, startling first sentence, this book is a clear-eyed account of a tumultuous childhood that happened, literally and figuratively, all over the place. Jane Alison may have felt insecure as a child, but she's incredibly secure as a writer; and it's this strange mixture precise and graceful description of profoundly unsettling events that underlies the alchemy of this book." -- Joan Wickersham, author of The Suicide Index

"Enormously compelling … a truly unusual, harrowing journey of identity." -- Publishers Weekly (starred review)


PRAISE FOR NATIVES AND EXOTICS



"In Natives and Exotics, Jane Alison takes us where history books can't—or won't—go."—Washington Post Book World



PRAISE FOR THE LOVE-ARTIST



"A swirling parable that touches on the opposed sorceries of art and magic, on tyranny and rebellion, and on the struggle of male and female . . . Alison writes with the fevered pitch of nightmare and, as with the best nightmares, every detail is more real than reality."—Richard Eder, New York Times Book Review


Mariner Books, 9780547247731, 288pp.
Publication Date: April 9, 2010
About the Author
JANE ALISON is the author of three novels: The Love-Artist, The Marriage of the Sea, and Natives and Exotics. She teaches in the MFA programs at the University of Miami and Queens University in Charlotte.
The first time Jenny sees Jane after their parents' divorces, she asks: "So, who do you think did it first?" (p. 3). Jane revisits this question throughout the book. What is implied by the question? Why did it matter to the girls? How does the question persist in haunting Jane throughout her life? Does she ever get an answer?
Themes of doubling recur throughout the book: "A bicameral group to match the bihemisphered world we traveled after the split, and the bilateral brain and the bichambered heart that slowly grew inside" (p. 7). How does the author use the theme of doubling — along with opposition and displacement — in the book? Who or what is doubled, opposed, displaced? Is Jane able to escape this feeling?
A lot of the book is about Jane's searching, or longing — for a father, for a sister, for a sense of home. How does Jane define home — is it a place or a person? How do you define home?
"But I wonder if it's part of the idea of antipodes that one of the two poles is more powerful, because only one of the two has thought about, imagined, and sought out the other" (p. 18). Jane is speaking literally, about Australia and its relationship to Europe, but what else, who else, is she talking about? Does Jane imply, in the doubling that occurs throughout the book, a power imbalance?
Because of the complicated circumstances of the divorce, the children were affected in more than just the expected ways: "Our own identity — as fixed by name, father, nationality — is curiously cloudy" (p. 29). How much do you consider these three facts (name, father, nationality) to be part of your identity? What criteria would you use to define who you are?
Competition is a basic element of sibling rivalry, but Jane implies that she was more competitive than most. What are the repercussions of Jane's competitiveness throughout her life?
On page 67, Jane describes choosing teams in gym class: "Pure value, desirability . . . But the idea of value existed somewhere between the girl choosing and the one being chosen . . . So arbitrary, so magic. And perilous, too, because what could it mean if you didn't own that value but it was invested in you from outside?" What do you think of Jane's concept of value? Do you agree that value is created through the interaction of two people, or do you consider people to have an inherent worth, absolute and unconditional? Have you ever felt that your "value" was determined by someone or something outside of you? If so, do you think that was fair?
Maggy has a very different opinion of her stepfather, Paul, than Jane does: "She hated Paul, and I should too" (p. 71). Why do you think the two girls react so differently to their stepfather?
Paul occasionally asks Jane's opinion about a gift he bought for his "real" daughter, Jenny. Jane says, "I had the feel of honor, because I'd advised him on the matter of his daughter. Which was surely a position better than being a daughter, because it had not been born into, worth nothing, but won" (p. 77). What do you make of Jane's reaction to this situation? Do you agree with her conclusion?
The book concentrates on Jane's relationship with her fathers, but Jane does say this about her mothers: "I knew which woman I loved and was better. But I could see which woman I would rather be" (p. 109). Which was which? From this statement, what conclusion would you draw about Jane's conception of womanhood?
Thinking about which set of daughters — and thus, which set of genes — is stronger, the Americans or the Australians, Jane muses, "And then there was the problem of what strong meant, whether power was something you could make in yourself, or simply had, whether you really had it anyway or if it was draped upon you from outside and could be stripped away again. And in love, which was most powerful: attracting or keeping? Or refusing to need?" (p. 134). What do you think of Jane's conflating strength, power, and love? Do you think all these qualities are related? Are they contingent on one another?
"A girl standing before a mirror with lipstick in her hand, making herself up for someone; a girl standing before a mirror with a knife in her hand, breaking herself for someone" (p. 193). Compare Jane's and Jenny's different conceptions of the self, of inside and outside, of keeping out versus digging in?
On page 197, Jane steps outside the story to comment on the nature of first-person memoir itself. When reading novels, we generally think it's a mistake to equate a first-person narrator with the author. In a memoir, however, that conflation is expected. What do you think: is the Jane of the story the same person as Jane the author?
Jenny says once in her writing, "I'm just telling you one thing. Don't ever leave yourself behind." What do you think she means? Do you think Jenny's struggles stem from this leaving herself behind? Do you think Jane ever did that?