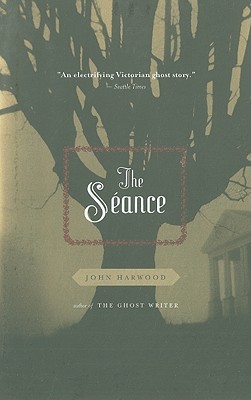 The Seance
Paperback

* Individual store prices may vary.
Other Editions of This Title:
Digital Audiobook (1/14/2014)
Hardcover, Large Print (8/1/2009)
Hardcover (2/3/2009)
Description
A haunting tale of apparitions, a cursed manor house, and two generations of women determined to discover the truth, by the author of The Ghost Writer Sell the Hall unseen; burn it to the ground and plow the earth with salt, if you will; but never live there . . ." Constance Langton grows up in a household marked by death, her father distant, her mother in perpetual mourning for Constance's sister, the child she lost.Desperate to coax her mother back to health, Constance takes her to a séance: perhaps she will find comfort from beyond the grave. But the meeting has tragic consequences. Constance is left alone, her only legacy a mysterious bequest that will blight her life.
So begins The Séance, John Harwood's brilliant second novel, a gripping, dark mystery set in late-Victorian England.
It is a world of apparitions, of disappearances and unnatural phenomena, of betrayal and blackmail and black-hearted villains—and murder. For Constance's bequest comes in two parts: a house and a mystery. Years before, a family disappeared atWraxford Hall, a decaying mansion in the English countryside with a sinister reputation.Now the Hall belongs to Constance. And she must descend into the darkness at the heart of theWraxford Mystery to find the truth, even at the cost of her life.
Praise For The Seance…
Praise for The Ghost Writer
"Elegantly paced and delightfully macabre, [The Ghost Writer] celebrate[s] the Victorian school and its obsession with the past's authority over the present, the thin line between affection and obsession, the glimpse of the lurid from the corner of the eye."—Washington Post Book World
"The Ghost Writer manages to evoke both the confident past and the more anguished present of the genre, and even to suggest, slyly, that although the illustrious tradition of the genteel British ghost story remains with us, we need to be very, very careful about disturbing its rest."—New York Times Book Review

Mariner Books, 9780547247823, 336pp.
Publication Date: October 12, 2009
About the Author
John Harwood is the author of two previous novels of Victorian Gothic suspense. Aside from fiction, his published work includes biography, poetry, political journalism and literary history. His acclaimed first novel, The Ghost Writer, won the International Horror Guild's First Novel Award. He lives in Hobart, Australia.
The Séance involves far more than just séances: a sinister mansion, a haunted forest, disappearances, premonitions, mesmerists, secret passages, old manuscripts, and mysteries. Why do you think the author conjured this title?
Early on, Constance describes her guilt feelings for being alive and a sense that her dead sister, Alma, is always with them in the dreary house. After reading this initial section, how did you feel about Constance? What other details in Constance's life encourage you to want to know her better?
The medium Mrs. Versay admits to Constance that although she believes in what she does, sometimes she fakes a contact from the spirit world in order to comfort the needy and troubled, to put them at ease. How does this affect your opinion of her? What do you think of the idea of psychics occasionally making things up for the benefit of others?
Constance gets the idea to "summon" Alma for her mother as a way to comfort her. Do you believe Constance is simply improvising, or does her dead sister really speak through her?
The novel is presented in a series of narratives and journals. What effect did this format have on your reading experience? Whose voice most captivated you, and why?
Throughout the book it is possible to see Wraxford Hall as a character in its own right. What do you think gives it personality—its history (dating back to Henry VIII), its reclusive inhabitant, or the legends of its being haunted?
On page 64, John Montague describes his greatest work as a painter. "It was a scene at once melancholy, sinister, and beautiful," and he feels like "the God of creation; I looked upon my work and knew that it was good." Why do you think John Montague was inspired to paint Wraxford Hall by Moonlight? What significance did the painting have in John's life? What significance does it have in the overall story?
Perhaps the most influential character in the book is Dr. Magnus Wraxford. As readers, we experience him through the eyes of John Montague, Eleanor Unwin/Nell Wraxford, and Constance Langton. Why do you think the author chose not to give Magnus his own narrative? How might such a narrative have changed the novel?
There are a number of echoes between the narratives and story lines in the book. For example, Eleanor Unwin reminds John Montague of his deceased wife, Phoebe. And, of course, the recurring deaths and disappearances at Wraxford Hall. Why do you think the author chose to weave these individual characters' stories together in this way?
There is some question regarding the source of Eleanor Unwin's visions of ghosts. Sometimes it is described as a lesion in the brain, sometimes as an unusual gift. What do you think? Was Eleanor able to see other ghosts, those who had died or would soon die?
After learning of John Montague's death and finishing the package he had mailed to her, Constance determines that she owes it to John's memory to solve the mystery of Wraxford Hall. But she also seems to feel an obligation to Nell Wraxford, to clear her name of wrongdoing. Ultimately, what do you think Constance's true motivation is?
Like Magnus, Vernon Raphael wants to conduct an experiment at Wraxford Hall involving a séance. Constance accompanies them, along with Edwin Rhys, the son of Dr. Godwin Rhys, who had been present for Magnus's proposed experiment. Discuss the reasons Constance not only agrees to the experiment, but wants to be present for it. Would you have made the same choice if you were in Constance's shoes? Why or why not?
At the end of the book, Constance finally meets the person who can shed light on the entire mystery. How does Constance react when she learns the truth? What was your reaction to the revealing scene between Constance and her visitor?
By the end of Constance's visit to her inherited estate, the shuttered and decrepit manor is subject to more damage. What do you think will become of Wraxford Hall and the surrounding woods after the last page is turned? Do you imagine that Constance will attempt to repair it as well as its sinister reputation? Or is it, as John Montague said (page 96) when Magnus inherited it, "a millstone rather than a windfall"?