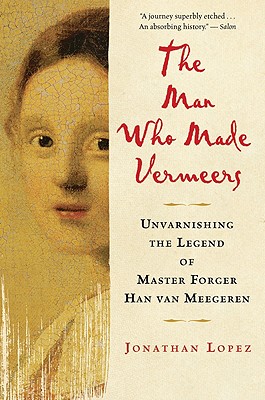 The Man Who Made Vermeers
Unvarnishing the Legend of Master Forger Han van Meegeren
Paperback

* Individual store prices may vary.
Description
NOW A MAJOR MOTION PICTURE, THE LAST VERMEER, STARRING GUY PEARCE: A revelatory biography of the world's most famous forger—a talented Mr. Ripley armed with a paintbrush—and a deliciously detailed story of deceit in the art world.
It's a story that made Dutch painter Han van Meegeren famous worldwide when it broke at the end of World War II: A lifetime of disappointment drove him to forge Vermeers, one of which he sold to Hermann Goering in mockery of the Nazis. And it's a story that's been believed ever since. Too bad it isn't true.
Jonathan Lopez has drawn on never-before-seen documents from dozens of archives for this long-overdue unvarnishing of Van Meegeren's legend. Neither unappreciated artist nor antifascist hero, Van Meegeren emerges as an ingenious, dyed-in-the-wool crook. Lopez explores a network of illicit commerce that operated across Europe: Not only was Van Meegeren a key player in that high-stakes game in the 1920s and '30s, landing fakes with famous collectors such as Andrew Mellon, but he and his associates later cashed in on the Nazi occupation.
Praise For The Man Who Made Vermeers: Unvarnishing the Legend of Master Forger Han van Meegeren…
ADVANCE PRAISE FOR THE MAN WHO MADE VERMEERS "From the outrageous swindles he perpetrated in Vermeer's name to the nefarious dealings he had with the Nazis in occupied Holland, Han van Meegeren's is an unforgettable, almost unbelievable story. Witty, erudite, and utterly compelling, Jonathan Lopez's account of the twentieth century's most notorious art forger is a must-read--a book that makes Van Meegeren's fake Vermeers even more fascinating, I dare say, than the Delft master's originals."--Caroline Weber, author of Queen of Fashion: What Marie Antoinette Wore to the Revolution —
Mariner Books, 9780547247847, 352pp.
Publication Date: July 15, 2009
About the Author
JONATHAN LOPEZ's writings on art and history appear frequently in Apollo: The International Magazine of Art and Antiques, published in London. The Man Who Made Vermeers grew out of an article that originally appeared in Dutch in De Groene Amsterdammer. Lopez lives with his wife, an art historian and critic, in Manhattan