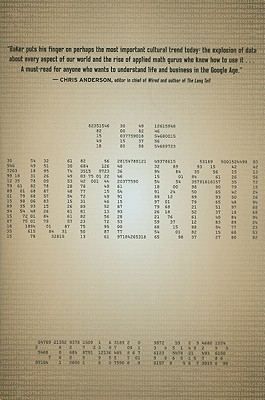 The Numerati
Paperback

* Individual store prices may vary.
Other Editions of This Title:
Digital Audiobook (9/14/2008)
Compact Disc (10/1/2008)
Hardcover (8/12/2008)
Compact Disc (9/15/2008)
MP3 CD (9/15/2008)
Paperback (9/1/2009)
Audio Cassette (9/1/2008)
Description
"Steve Baker puts his finger on perhaps the most important cultural trend today: the explosion of data about every aspect of our world and the rise of applied math gurus who know how to use it." --Chris Anderson, Editor-in-Chief of Wired Magazine (Wired Magazine )

An urgent look at how a global math elite is predicting and altering our behavior -- at work, at the mall, and in bed

Every day we produce loads of data about ourselves simply by living in the modern world: we click web pages, flip channels, drive through automatic toll booths, shop with credit cards, and make cell phone calls. Now, in one of the greatest undertakings of the twenty-first century, a savvy group of mathematicians and computer scientists is beginning to sift through this data to dissect us and map out our next steps. Their goal? To manipulate our behavior -- what we buy, how we vote -- without our even realizing it.

In this tour de force of original reporting and analysis, journalist Stephen Baker provides us with a fascinating guide to the world we're all entering -- and to the people controlling that world. The Numerati have infiltrated every realm of human affairs, profiling us as workers, shoppers, patients, voters, potential terrorists -- and lovers. The implications are vast. Our privacy evaporates. Our bosses can monitor and measure our every move (then reward or punish us). Politicians can find the swing voters among us, by plunking us all into new political groupings with names like "Hearth Keepers" and "Crossing Guards." It can sound scary. But the Numerati can also work on our behalf, diagnosing an illness before we're aware of the symptoms, or even helping us find our soul mate. Surprising, enlightening, and deeply relevant, The Numerati shows how a powerful new endeavor -- the mathematical modeling of humanity -- will transform every aspect of our lives.

STEPHEN BAKER has written for BusinessWeek for over twenty years, covering Mexico and Latin America, the Rust Belt, European technology, and a host of other topics, including blogs, math, and nanotechnology. But he's always considered himself a foreign correspondent. This, he says, was especially useful as he met the Numerati. "While I came from the world of words, they inhabited the symbolic realms of math and computer science. This was foreign to me. My reporting became an anthropological mission." Baker has written for many publications, including the Wall Street Journal, the Los Angeles Times, and the Boston Globe. He won an Overseas Press Club Award for his portrait of the rising Mexican auto industry. He is the coauthor of blogspotting.net, featured by the New York Times as one of fifty blogs to watch.

Mariner Books, 9780547247939, 256pp.
Publication Date: September 9, 2009
About the Author
STEPHEN BAKER was BusinessWeek's senior technology writer for a decade, based first in Paris and later New York. He has also written for the Los Angeles Times, Boston Globe, and the Wall Street Journal. Roger Lowenstein called his first book, The Numerati, "an eye-opening and chilling book." Baker blogs at finaljeopardy.net.