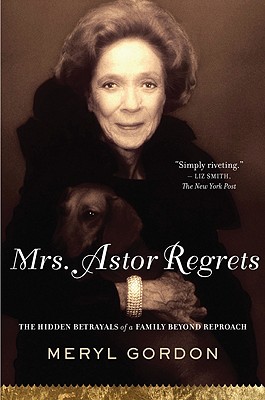 Mrs. Astor Regrets
The Hidden Betrayals of a Family Beyond Reproach
Paperback

* Individual store prices may vary.
Other Editions of This Title:
Digital Audiobook (1/18/2009)
Compact Disc (1/19/2009)
MP3 CD (1/19/2009)
Description
Award-winning journalist and New York Times best-selling author Meryl Gordon's Mrs. Astor Regrets: The Hidden Betrayals of a Family Beyond Reproach is "an even-handed and fascinating portrait of a wealthy family torn apart by money, jealousy, and emotional distance" (USA Today).

The fate of Brooke Astor, the endearing philanthropist with the storied name, has generated worldwide headlines since her grandson Philip sued his father in 2006, alleging mistreatment of Brooke. And shortly after her death in 2007, Anthony Marshall, Mrs. Astor's only child, was indicted on charges of looting her estate. Rarely has there been a story with such an appealing heroine, conjuring up a world so nearly forgotten: a realm of lavish wealth and secrets of the sort that have engaged Americans from the era of Edith Wharton to the more recent days of Truman Capote and Vanity Fair.

New York journalist Meryl Gordon has interviewed not only the elite of Brooke Astor's social circle, but also the large staff who cosseted and cared for Mrs. Astor during her declining years. The result is the behind-the-headlines story of the Astor empire's unraveling, filled with never-before-reported scenes. This powerful, poignant saga takes the reader inside the gilded gates of an American dynasty to tell of three generations' worth of longing and missed opportunities. Even in this territory of privilege, no riches can put things right once they've been torn asunder. Here is an American epic of the bonds of money, morality, and social position.

"Gordon seems to have left no diary unread, no servant unsolicited, no socialite unturned...If tabloids are your monring cup of tea, this is your book."—New York Times Book Review
Praise For Mrs. Astor Regrets: The Hidden Betrayals of a Family Beyond Reproach…
"With a journalist's eye and a New Yorker's raised eyebrow, Meryl Gordon weaves a web of fine detail into an enthralling, enraging story of Mrs. Astor's failing years. There are characters here that no novelist would ever dare to invent, and the plot has more twists than a pretzel. This is a sometimes heartbreaking story of greed and betrayal, but also one of loyalty, love and ultimate redemption." —Geraldine Brooks, author of People of the Book and the Pulitzer prize-winning March

"Meryl Gordon's riveting account of the legendary life and sad final days of Brooke Astor is an American epic. It's all here— high society, big money, blue blood, family feuds and criminal charges." —Tom Brokaw, author of The Greatest Generation and A Long Way From Home

"All of New York loved Brooke Astor— for her philanthropy, glamour, and Old School style. So everyone was shocked at charges that her only son and his wife had stolen her blind. Meryl Gordon, a meticulous reporter, persuaded all the players to give her interviews: everyone from Henry Kissinger and David Rockefeller, to Mrs. Astor's son and wife. In a spellbinding account of "the crime" and the betrayal, Ms. Gordon unwinds the whole saga in a nifty book that reads like a cross between an Edith Wharton classic and a Linda Fairstein crime novel. Except in this case, it's all true. I loved it!" —Lesley Stahl, 60 Minutes/CBS News

"So the rich are different: they're sadder. The story of America's ultimate real-life Edith Wharton heroine is inherently fascinating. But Meryl Gordon, by means of extraordinarily thorough reporting and sensitive, un-sensationalist writing, has produced a full-fledged tragedy of manners, a book worthy of the woman whose life it chronicles." —Kurt Andersen, author of Heyday and Turn of the Century

"With a wealth of revealing interviews and diligent reporting, Meryl Gordon has produced an inside account of the saga of Brooke Astor and her son Anthony Marshall. She provides both color and shadings to all sides of the story, turning it from a tabloid tale into a revealing social chronicle." —Walter Isaacson, President & CEO of The Aspen Institute and the author, most recently, of Einstein

"With depth and sensitivity, Meryl Gordon reveals the disquieting story behind the glamour and gaiety of Brooke Astor's life. Part Edith Wharton, part Charles Dickens, Mrs. Astor Regrets is a gripping read, filled with surprising details about the high stakes legal battle that shadowed Astor's final years, and the misunderstandings, betrayals, disappointments and resentments that tore her family apart." —Sally Bedell Smith, author of For Love of Politics: Inside the Clinton White House

"Gordon delivers a balanced, dogged--and ultimately sad--detective account ... Gordon sifts through painstakingly through the extended Astor family history ... [and] in the end, she tells a a sad and moving story." Publishers Weekly —
Mariner Books, 9780547247984, 368pp.
Publication Date: October 22, 2009
About the Author
MERYL GORDON is a full-time magazine journalist who for the past fifteen years has been a contract writer for New York magazine. She has profiled such influential figures as Kofi Annan, Mike Bloomberg, and John Kerry, and such stars as Nicole Kidman, Susan Sarandon, and Maggie Gyllenhaal. She has written major features for the New York Times Magazine, Gourmet, Elle, Marie Claire, and More. Earlier in her career she covered the police and court beats in Cincinnati and Rochester, and then became an economics writer in Washington, D.C. A graduate of the University of Michigan, she lives in New York City with her husband, Walter Shapiro, who is the Washington bureau chief for Salon.com.
or
Not Currently Available for Direct Purchase