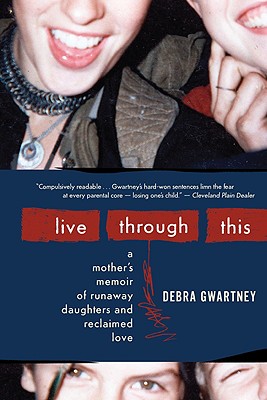 Live Through This (Paperback)
A Mother's Memoir of Runaway Daughters and Reclaimed Love
Mariner Books, 9780547248011, 240pp.
Publication Date: February 17, 2010
Other Editions of This Title:
Digital Audiobook (3/29/2009)
Hardcover (2/11/2009)
Compact Disc (3/1/2009)
MP3 CD (3/1/2009)
Compact Disc (3/1/2009)
* Individual store prices may vary.
Description
An intensely emotional and redemptive memoir about a mother's mission to rescue her runaway daughters
After a miserably failed marriage, Debra Gwartney moves with her four young daughters to Eugene, Oregon, for a new job and what she hopes will be a new life for herself and her family. The two oldest, Amanda, 14, and Stephanie, 13, blame their mother for what happened, and one day the two run off together—to the streets of their own city, then San Francisco, then nowhere to be found. The harrowing subculture of the American runaway, with its random violence, its horrendously dangerous street drugs, and its patchwork of hidden shelters is captured by Gwartney with brilliant intensity in Live Through This as she sets out to find her girls. Though she thought she could hold her family together by love alone, Gwartney recognizes over the course of her search where she failed. It's a testament to her strength—and to the resilience of her daughters—that after several years they are a family again, forged by both forgiveness and love.
About the Author
Debra Gwartney is a former Oregonian newspaper reporter and worked as a correspondent for Newsweek magazine for ten years. She teaches writing at Portland State University. Gwartney is the mother of four daughters and is married to writer Barry Lopez.
Praise For Live Through This: A Mother's Memoir of Runaway Daughters and Reclaimed Love…
"Profoundly moving memoir of the author's agony and perseverance as she lost her two teenage daughters to the streets, and of the slow, painful reconciliation they eventually found....An achingly beautiful chronicle of unfathomable sorrow, flickering hope and quiet redemption." --STARRED Kirkus
"Gwartney deserves high praise for her clear and lacerating prose, her refusal to assign blame or make excuses, and the stunning candor with which she offers telling glimpses into her own, and her daughters' father's, youthful recklessness and parental flounderings. Everyone concerned about self-destructive teens, and every survivor of her or his own wild times, will find Gwartney's searing chronicle of her resilient family's runaway years deeply affecting." --Booklist
"Debra Gwartney's Live Through This is an extraordinary, heart-driven account of daughters lost and found, of other daughters kept close along the way, and of an underworld that's with us everywhere, but which so few of us see."—Rick Simonson, Elliott Bay Book Company
"As I read Debra Gwartney's harrowing memoir, I had to keep reminding myself that this was not fiction. Gwartney's honesty about her mothering and the rawness with which she tells her story are both admirable and heartbreaking. Live Through This is utterly true, and that, combined with Gwartney's frank storytelling, make this book unforgettable."—Ann Hood, author of The Knitting Circle and Somewhere Off the Coast of Maine
"For all the raw power of this true story and the fearless honesty of the voice telling it, what sticks out for me is the literary craft that shapes every sentence. Debra Gwartney has seen clear to the bottom of her experience, purged it of self-righteousness, and emerged with a stunningly humane and humbled awareness of life's troubles"—Phillip Lopate, author of Totally, Tenderly, Tragically and Portrait of My Body
"Gutsy, edgy, and revelatory, Gwartney's fast-paced tale of a family in pieces builds to a magnificent, hard-won communion. Her ability to follow the wildness in her own story uncovers truths about every parent, every child."—China Galland, author of Love Cemetery: Unburying the Secret History of Slaves and Longing for Darkness: Tara and the Black Madonna