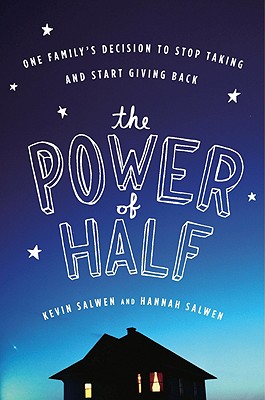 The Power of Half
One Family's Decision to Stop Taking and Start Giving Back
Hardcover

* Individual store prices may vary.
Other Editions of This Title:
Digital Audiobook (2/9/2010)
Compact Disc (6/22/2021)
MP3 CD (6/22/2021)
Paperback (1/7/2011)
CD-Audio (2/10/2010)
Description
It all started when fourteen-year-old Hannah Salwen had a eureka moment. Seeing a homeless man in her neighborhood at the same instant she spotted a man driving a glistening Mercedes, she said, "Dad, if that man had a less nice car, that man there could have a meal."
Until that day, the Salwens had been caught up like so many of us in the classic American dream--providing a good life for their children, accumulating more and more stuff, doing their part to help others but not really feeling it. So when Hannah was stopped in her tracks by this glaring disparity, her parents knew they had to act on her urge to do something. As a family, they made the extraordinary decision to sell their Atlanta mansion, buy a house half its size, and give half of the sale price to a worthy charity. At first it seemed outlandish: "What, are we crazy?" Then it became a challenge: "We are totally doing this." Their plan eventually took them across the globe and well out of their comfort zone. In the end they learned that they had the power to change a little corner of the world. And they found themselves changing too.
As Kevin Salwen says, "No one else is nuts enough to sell their house," but what his family discovered along the way will inspire countless others, no matter what their means or resources are. Warm, funny, and deeply moving, "The Power of Half" is the story of how one family grew closer as they discovered that half could be so much more.

Praise For The Power of Half: One Family's Decision to Stop Taking and Start Giving Back…
"Hannah, you rock!" --Ann Curry, The Today Show   "You feel lighter reading this book, as if the heavy weight of house and car and appliances, the need to collect these things to feel safe as a family, are lifted and replaced by something that makes much more sense." --The Los Angeles Times   "Mixing humor, inspiration and self-reflection, The Power of Half will give you a whole new perspective on your life.  You can't help but recommit to the values you want to share with your children.  And you'll be reminded that your kids have much to teach you, too." --Jeffrey Zaslow, coauthor of The Last Lecture   "The Power of Half is a story of genorosity become realized--a family's unpretentious, morally introspective life becomes a kind of lived enactment and fulfillment of an old ethical and spiritual imperitave: that in giving we receive.  In a sense, then, this is an account of kindness toward others become a family's fateful self-blessing and destiny (and for the rest of us a chain of events to behold, earnestly consider, and take to heart)." --Dr. Robert Coles   "Americans are the world's most generous people, but, as The Power of Half shows, the Salwen family is lifting hearts in a new way.  Not Carnegie, Gates, or the United Way.  Sports mom, Little League dad, YouTube-addicted son, and 14-year-old "Hey Dude" daughter are pilgrims on the way of all loving flesh. Who knew Siddartha lived in the suburbs, Mother Teresa wore volleyball kneepads, and the Buddha could emerge from his dream at a traffic light: When the heart is full, give half." --Michael Capuzzo, author of Close to the Shore and The Murder Room   "The Power of Half proves so much about leadership.  Most importantly, that leadership comes in all ages, as long as there is a decision made to let it out and foster it.  Hannah and her family inspire me to want to improve the relationships in my life through the power of renewed energy.  I'm planning to give this book to everyone I know." --Alicia Mandel, United States Olympic Committee   "The Power of Half is not just an extraordinary story of a 14-year-old girl who pushes her family to look outside of themselves and give something big back to the world.  The Salwen father-daughter duo sets a new standard for families and individuals seeking to inject meaning into their lives.  What does your family stand for?  What 'half' are you willing to give back?  Read this book and, like me and my family, you'll want to tackle these questions and change your life." --Daniel H. Pink, author of A Whole New Mind  and Drive   "Hannah Salwen and her dad show what can happen when the best of youthful idealism combines with a "can-do" attitude looking to change the world for the better, one family at a time.  Hannah inspires every one of her readers to ask, 'What can I do to help?'  An adventure with a conscience.  Brava!" --Susanne B. Beck, Executive Director, National Coalition of Girls' Schools  
Houghton Mifflin Harcourt, 9780547248066, 256pp.
Publication Date: February 1, 2010
In the book's opening scene, Hannah Salwen and a Ghanaian tribal chief cut the ribbon at a ceremony celebrating a new corn mill. Kevin Salwen tells us that the shared duty of ribbon-cutting reflects his daughter's belief in fairness. How did The Power of Half transform your understanding of fairness in the world? Before you read the book, what did you believe about wealth and poverty?
What accounts for the personality differences between Hannah and her brother, Joseph? Is it simply a matter of temperament? How do their differences ultimately make them a great team? What do they learn (and teach) about true leadership?
How does Hannah's perspective on this story compare to her father's? What makes youth philanthropy particularly meaningful?
Discuss the book's title. What makes the power of half more powerful than tithing, or other approaches to charitable giving, in terms of not only treasure but also talent and time?
Hannah and Kevin experienced an awakening at the intersection of Connector and Spring when Hannah pointed out the economic disparity between a homeless man and the driver of a Mercedes. What do you think can be done to address the root causes of economic disparity in America? Where do you see this disparity in your own life?
What did the Salwens' grand house symbolize at various points in their lives? What does a home mean to you: status, a gathering place, shelter?
Kevin describes the road to affluence that he and his wife, Joan, took — an exhausting career treadmill — and the realization that they could continue living well if they substantially cut their expenses. Their new life is still very comfortable: they enjoy maid service, drive a relatively new Scion, and live in a safe, attractive neighborhood. How would you define your tolerance for "half"? What is the best way to know what we can truly afford to give up? How should we define poverty, and affluence?
How did Joan's career as a consultant and Kevin's training as a journalist prepare them for this project? If you had been in their shoes, how would you have reacted to Hannah's call to action? What would it take to spur you to make such a radical transformation in your life (especially if you are on the "treadmill" now)?
In what way is The Power of Half also a parenting book? What does the Salwen experience teach us about democratizing a family? How did Joan and Kevin begin sharing the decision making with their children while still providing the adult guidance that kids need?
Discuss the process the Salwens undertook in choosing The Hunger Project. Were you surprised by the mixed success rates reported by several high-profile relief programs? In your opinion, what are the primary roadblocks to improving the standard of living in postcolonial corners of the world?
Some of the Salwens' friends were clearly averse to the concept of charitable giving at audacious levels. How would your friends and family react to a "power of half" proposal? Why would some be offended by Kevin's notion that sharing can lead to better lives for others? How would you respond to those who believe that redistributing economic resources is somehow "un-American"? How would you reassure skeptics who fear being swindled, as Kevin and Joan were when they lived in Manhattan?
How did the reality of Ghana compare with the expectations the Salwens had before they made their trip? Which of their unexpected challenges and rewards surprised you the most?
In his closing line, Kevin says that his family's dreams had outgrown their house. What does it mean to inhabit a "smaller house but bigger world"? What benefits did the Salwens experience as a result of their transformation?
Which of Hannah's activities appeals to you the most? Which ones could you begin implementing this week?
or
Not Currently Available for Direct Purchase