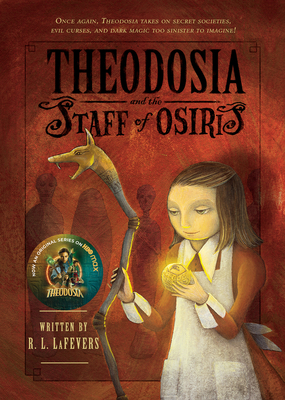 Theodosia and the Staff of Osiris (Paperback)
Houghton Mifflin, 9780547248196, 287pp.
Publication Date: September 1, 2009
* Individual store prices may vary.
Description
Theodosia Throckmorton is in a fix. Allowed to attend a reception given by one of the directors of her parents' museum, she stumbles across Mr. Tetley of the British Museumin most unusual circumstances! Since Theo has last seen him in a showdown in an ancient Egyptian tomb, his reappearance could mean only one thing: the Serpents of Chaos are back.
Once again Theodosia will have to take on secret societies, evil curses, and dark magic too sinister to imagine, especially if it falls into the wrong hands. Blocked at every turn, Theodosia will have to rely on her own skill and cunningalong with a little help from the most unexpected places.
About the Author
R. L. LaFevers (Robin Lorraine when she's in really big trouble) has been fascinated by libraries and museums ever since she first set foot in one. When she's not gazing longingly at ancient artifacts or wallowing in old forgotten texts, she's busy trying to keep one step ahead of her two teenage sons. She lives with the aforementioned sons, her husband, and a demonic cat in Southern California.