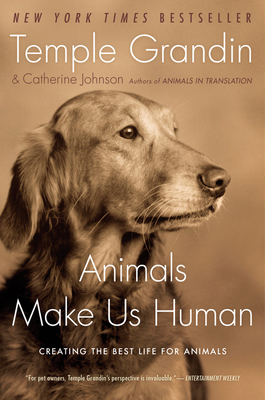 Animals Make Us Human
Creating the Best Life for Animals
Paperback

* Individual store prices may vary.
Other Editions of This Title:
Digital Audiobook (9/2/2019)
MP3 CD (9/3/2019)
Compact Disc (9/3/2019)
CD-Audio (9/3/2019)
Description
The best-selling animal advocate Temple Grandin offers the most exciting exploration of how animals feel since The Hidden Life of Dogs.

In her groundbreaking and best-selling book Animals in Translation, Temple Grandin drew on her own experience with autism as well as her distinguished career as an animal scientist to deliver extraordinary insights into how animals think, act, and feel. Now she builds on those insights to show us how to give our animals the best and happiest life—on their terms, not ours.

It's usually easy to pinpoint the cause of physical pain in animals, but to know what is causing them emotional distress is much harder. Drawing on the latest research and her own work, Grandin identifies the core emotional needs of animals. Then she explains how to fulfill them for dogs and cats, horses, farm animals, and zoo animals. Whether it's how to make the healthiest environment for the dog you must leave alone most of the day, how to keep pigs from being bored, or how to know if the lion pacing in the zoo is miserable or just exercising, Grandin teaches us to challenge our assumptions about animal contentment and honor our bond with our fellow creatures.

Animals Make Us Human is the culmination of almost thirty years of research, experimentation, and experience.

This is essential reading for anyone who's ever owned, cared for, or simply cared about an animal.
Praise For Animals Make Us Human: Creating the Best Life for Animals…
Praise for Animals Make Us Human

"Provocative...We're lucky to have Temple Grandin." --New York Times

"Part owner's manual and part business proposal, Animals Make Us Human argues that we can treat animals better if we consider the emotions that motivate them...For pet owners, her perspecitve is invaluable...Grade: A-" -- Entertainment Weekly

A well-written, down-to-earth look into the lives of lots of animals, including animals that make up part of our food chain. Grade: A" - Rocky Mountain News

"Packed with fascinating insights, unexpected observations and a wealth of how-to tips, Grandin's peppy work ably challenges assumptions about what makes animals happy." - STARRED Publishers Weekly

"The text provides thought-provoking scenarios and references several animal studies...readers will be able to glean new perspectives about animal welfare." -Library Journal

Praise for Animals in Translation

"Inspiring . . . Crammed with facts and anecdotes about Temple Grandin's favorite subject: the senses, brains, emotions, and amazing talents of animals."—New York Times Book Review

"A master intermediary between humans and our fellow beasts . . . At once hilarious, fascinating, and just plain weird, Animals is one of those rare books that elicits a 'wow' on almost every page. A."—Entertainment Weekly

"At times, it is difficult to work out whether this is a book about animal behavior with insight from autism, or a book about autism that uses animal behavior to explain what it is like to be autistic. A major achievement of the book is that it is both."—Nature



Mariner Books, 9780547248233, 352pp.
Publication Date: January 12, 2010
About the Author
TEMPLE GRANDIN is one of the world's most accomplished and well-known adults with autism. She is a professor at Colorado State University and the New York Times bestselling author of several books, including The Autistic Brain, which have sold more than a million copies. Named one of Time's most influential people in 2010, the HBO movie based on her life, starring Claire Danes, received seven Emmy Awards.
CATHERINE JOHNSON, Ph.D., is a writer specializing in neuropsychiatry and the brain. She cowrote Animals in Translation and served as a trustee of the National Alliance for Autism Research for seven years. She lives with her husband and three sons—two of whom have autism—in New York.
In Animals Make Us Human, Temple Grandin proposes that we need to focus on emotions to decrease an animal's problem behaviors and improve its quality of life. Do you agree with her that all of the animals discussed in the book have emotions? Where have you seen evidence of an animal's emotions in your own life?
"All animals and people have the same core emotion systems in the brain" (p. 4). Grandin defines these as the "blue ribbon" emotions: SEEKING, RAGE, FEAR, PANIC. These are, perhaps, easier to recognize sometimes in animals than in humans. How do these core emotions correspond in humans? Where in your life do you see yourself, or others, SEEKING? What situations make you PANIC?
What is a stereotype? Is it always a bad thing to see in an animal? Have you ever witnessed an animal with a stereotypy?
Grandin writes, "Everyone who is responsible for animals—farmers, ranchers, zookeepers, and pet owners—needs a set of simple, reliable guidelines for creating good mental welfare he can apply to any animal in any situation, and the best guidelines we have are the core emotion systems in the brain. The rule is simple: don't stimulate RAGE, FEAR, and PANIC if you can help it, and do stimulate SEEKING and also PLAY" (p. 17). Is this sometimes easier said than done? What sort of problem behavior in animals have you encountered in your own life? How might you approach the situation differently after having read this book?
Are you a pet owner? How did you choose your pet? What qualities were you looking for in an animal companion and how did you go about finding them?
Grandin suggests that since we only recently learned that dogs are genetic wolves, we need to start thinking about dogs in new ways. How does your understanding of wolves and wolf behavior affect how you look at dogs now?
"What dogs probably need isn't a substitute pack leader but a substitute parent. I say that because genetically dogs are juvenile wolves, and young wolves live with their parents and siblings" (p. 24). Do you watch Cesar Milan's television show? If so, how do you view his techniques in light of Grandin's theories about whether dogs prefer to live in families or packs and whether they need a pack leader or a parent?
If "the most natural existence for a dog is a fence-free, mostly outdoor life with a human owner" (p. 23) is a situation difficult for most dog owners to provide, what are other ways owners can ensure the emotional well-being of their pets? How do the blue ribbon emotions (PANIC, RAGE, FEAR, PLAY, SEEKING) help us solve this problem?
What's wrong with leash laws? Can you think of some safe alternatives?
"Telling people that any dog can bite is misleading because it lumps all dogs together. The chances of a completely normal, well-socialized dog who hasn't been traumatized as a puppy biting a person are tiny" (p. 44). What makes some dogs more aggressive than others? Some communities across the country have movements to ban pit bulls because that particular breed has been known to attack humans. Would you support such a movement?
"[Cats] haven't really been domesticated" (p. 49). What does Grandin mean by this? How did cats come to be pets?
Can cats be trained? How?
"Housecats might have more complicated emotions than dogs because they're not as neotenized as dogs" (p. 64). What does this mean? Do you agree? Can you think of examples that might support this argument?
What are the social needs of cats? What is "social learning" (p. 71) and how do cats use it?
Horses are prey animals, in which fear is the dominant emotion. How does understanding the FEAR system in horses help us create a better environment for the animals (p. 78)?
How are animals "hyper-specific" (p. 82)? Have you ever encountered this hyper-specificity personally? Being hyper-specific is one way Grandin, as a person with autism, feels she can relate to animals better than most other people. What are some other ways?
"One study of horseback riding injuries in England found that riding horses was 20 times as dangerous as riding motorcycles" (p 89). Taking into consideration what Grandin writes about blue ribbon emotions, what can be done to reduce horseback riding injuries?
"Almost all horses have been trained using negative reinforcement, not positive reinforcement. Negative reinforcement isn't the same as punishment" (p. 93). Discuss how negative reinforcement works. How does it differ from positive reinforcement? Which is better to use?
What does it mean to be "curiously afraid" (p. 107)? Grandin writes, "New things are always unpredictable, so I conclude that animals and people are programmed to pay attention to and explore new things" (p. 108). Do humans act curiously afraid, too?
Grandin suggests that "ineffective, high-stress cattle handling may be a consequence of people getting too far away from nature and from the knowledge of animals and the land their grandparents had" (p. 116). Later she writes, "Why do we have a serious shortage of people going into fieldwork? I think it might go back to childhood, with children staying indoors and playing virtual basketball instead of going outside to shoot hoops" (p. 189-190). What other consequences do you see of people moving too far away from nature? Have you ever used a compass to draw a circle? Have your kids? What does this say about our society and our relationship to nature?
"Physically, chickens suffer for three main reasons: poor handling by workers, bad industry practices, and poor genetics" (p. 157). How did it make you feel to read about the poor treatment of chickens and other animals? Were you surprised to hear that some of these practices still exist? Were you motivated to do something about it?
What are the best environments we can create for cattle, poultry, and pigs? What did you learn about their blue ribbon emotions, and how does understanding farm animals' emotions help determine what their living conditions should be? For each industry, Grandin stresses the need for audits and good management of employees to maintain a high-functioning animal processing plant. Why do you think people need incentives to handle animals correctly?
Grandin writes that she is "worried about whether we will always have a Jane Goodall" (p. 176). Why do we need people like Jane Goodall? Why is it getting harder to "go in the back door" (p. 176)? Have you ever gone in the back door to secure a job or position?
What is abstractification? What does Grandin suggest it means for the future of ecosystems of wild animals?