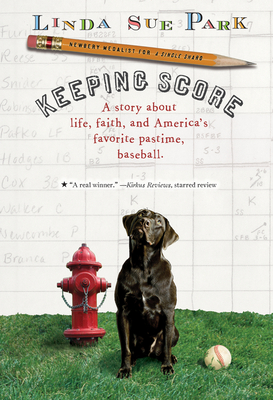 Keeping Score (Paperback)
Clarion Books, 9780547248974, 224pp.
Publication Date: March 8, 2010
Other Editions of This Title:
Hardcover (3/1/2008)
Hardcover (3/1/2010)
* Individual store prices may vary.
Description
Both Maggie Fortini and her brother, Joey-Mick, were named for baseball great Joe DiMaggio. Unlike Joey-Mick, Maggie doesn't play baseball—but at almost ten years old, she is a dyed-in-the-wool fan of the Brooklyn Dodgers. Maggie can recite all the players' statistics and understands the subtleties of the game. Unfortunately, Jim Maine is a Giants fan, but it's Jim who teaches Maggie the fine art of scoring a baseball game. Not only can she revisit every play of every inning, but by keeping score she feels she's more than just a fan: she's helping her team.
Jim is drafted into the army and sent to Korea, and although Maggie writes to him often, his silence is just one of a string of disappointments—being a Brooklyn Dodgers fan in the early 1950s meant season after season of near misses and year after year of dashed hopes. But Maggie goes on trying to help the Dodgers, and when she finds out that Jim needs help, too, she's determined to provide it. Against a background of major league baseball and the Korean War on the home front, Maggie looks for, and finds, a way to make a difference.
Even those readers who think they don't care about baseball will be drawn into the world of the true and ardent fan. Linda Sue Park's captivating story will, of course, delight those who are already keeping score.
About the Author
Linda Sue Park is the author of the Newbery Medal book A Single Shard and bestseller A Long Walk to Water. She has also written several acclaimed picture books, fiction and nonfiction, and is a founding member of We Need Diverse Books. She lives in Rochester, New York, with her family. Visit her online at lspark.com and on Twitter @LindaSuePark.
Praise For Keeping Score…
"Although the jacket image shoes a girl at a baseball stadium, Newbery Medalist Park's (A Single Shard) Korean War-era novel is best approached not as a sports story but as a powerful attempt to grapple with loss. Margaret Olivia Fontini, named after Joe DiMaggio ("Maggie-o, get it?"), loves Brooklyn's beloved but doomed Dodgers with a passion. When a new fireman arrives at her father's station wearing his allegiance to the arch-enemy Giants on his sleeve, Maggie keeps her distance until he teachers her how to score the game, a practice Maggie embraces with gusto, believing that recording every pitch and play might actually help Dem Bums finally win. And when Jim is drafted and sent to Korea, he and Maggie write, until Jim's letters abruptly stop. Park evokes the characters and settings with her customary skill and talent for detail; she shows unusual sensitivity in writing about war and the atrocity that, Maggie learns, has traumatized Jim into silence. Readers will be moved by Maggie's hard earned revelation, that every instance of keeping score "had been a chance to hope for something good to happen," and that "hope always comes first."--Publishers Weekly, starred review
"In 1950s Brooklyn, everyone is baseball mad. Maggie says daily prayers and follows careful rituals to "help" the Dodgers. She listens intently to games on the radio, often with her friends at the firehouse. With firefighter Jim's help, even if he is a Giants fan, she learns to score the games meticulously. Jim is drafted and sent to Korea, where his experiences lead to a severe breakdown. Maggie writes to Jim faithfully, scores Giants games for him and says heartfelt prayers for his recovery. But her efforts meet with little success. She is disillusioned and heartbroken by the war, by Jim's inability to cope and by the constant disappointments provided by the Dodgers. But she never completely gives up, and there is a ray of hope for both Jim and the Dodgers as the 1955 season begins. Park's deeply layered plot is built as slowly and as meticulously as Maggie's scoring. As Maggie matures from age nine to 13, she never loses her compassion and openhearted nature. An author's note adds historical information. A winner at every level."--Kirkus Reviews, starred review
"In 1951, Maggie, nine, and her older brother, Joey-Mick, are dedicated baseball fans though their beloved Brooklyn Dodgers always disappoint them at season's end. Maggie enjoys listening to the games with the firefighters in her neighborhood station; her dad worked there before an injury forced him to accept a desk job. When a new firefighter, Jim, joins the crew, he teaches Maggie how to keep score and she comes to share his admiration for Giants' great Willie Mays. Then Jim is drafted and sent to Korea. They writer to one another until his letters abruptly stop. Maggie, frustrated and worried, tries to understand the conflict by researching it at her local library and even drawing her own maps tracing the war's progress on the Korean peninsula. Eventually, she learns that Jim suffered traumatic shock after a horrific battle and has been sent home with a medical discharge. Park paints a vividly detailed account of life in 1950s Brooklyn. Maggie's perspective is authentically childlike and engaging, and her relations with her family and friends ring true. Jim's tragic experience raises difficult, troubling questions for Maggie, but her grief eventually brings her to the conclusion that "hope is what gets everything started." Baseball fans will savor her first visit to Ebbets Fields, but this finely crafted novel should resonate with a wide audience of readers.."--School Library Journal
"Park, author of the Newbery-winning A Single Shard (2001), opens this thoroughly researched novel in Brooklyn with the 1951 baseball season half gone. Nine-year-old Maggie likes to hang out at the fire station, where she listens to the Dodger games with the firemen. The new guy, Jim, teaches Maggie how to score a game, and after Jim is drafted and sent to Korea, Maggie writes him letters. When she learns that he has been traumatized and sent home unresponsive and unable to function on his own, Maggie works on a plan to bring Jim back to himself and his own life. To her credit, Park doesn't make Maggie's goal seem easy or even realistic. The involving story spans several years with only a glimmer of hope for Jim's recovery. Still, readers will find plenty to root for as they get to know determined, persistent Maggie, who feels that the first words she ever learned must have been "Wait till next year."--Booklist