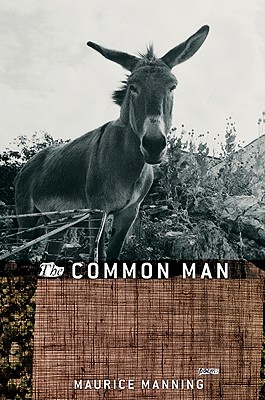 The Common Man (Hardcover)
Houghton Mifflin Harcourt, 9780547249612, 112pp.
Publication Date: April 1, 2010
Other Editions of This Title:
Paperback (4/1/2010)
* Individual store prices may vary.
Description
The Common Man, Maurice Manning's fourth collection, is a series of ballad-like narratives, set down in loose, unrhymed iambic tetrameter, that honors the strange beauty of the Kentucky mountain country he knew as a child, as well as the idiosyncratic adventures and personalities of the oldtimers who were his neighbors, friends, and family. Playing off the book's title, Manning demonstrates that no one is common or simple. Instead, he creates a detailed, complex, and poignant portrait—by turns serious and hilarious, philosophical and speculative, but ultimately tragic—of a fast-disappearing aspect of American culture. The Common Man's accessibility and its enthusiastic and sincere charms make it the perfect antidote to the glib ironies that characterize much contemporary American verse. It will also help to strengthen Manning's reputation as one of his generation's most important and original voices.
Praise For The Common Man…
"This fourth book by Yale Younger Poet's Prize–winner Manning is, like his previous books, a unified sequence . . . The poems are friendly, if also full of sadness. . . . Readers will find themselves charmed by Manning's smart, companionable voice." —Publishers Weekly

"Maurice Manning's fourth collection of poems, The Common Man, brings the tales and idiom of a sort of American Robert Burns, a rough-hewn Appalachian experience that's comedic and exuberant, sly and pointed as it works its way around what Manning calls 'the big ideas.' James Dickey used to say he wanted to write 'country surrealism' and meant the tales, as strange as they are cultural reflections, that come with fireside talking. And, oh yes, singing. Manning has big talents and none are more impressive than his singing, a word much overused when speaking of poets. I think few will disagree this is memorable music, entertaining, rich, often spooky-wise. The Common Man marks Maurice Manning as a most uncommon poet." —Dave Smith, author of Little Boats, Unsalvaged

"The Common Man is Maurice Manning's homage to a way of being human that has all but vanished, but he has the lyrical powers and the gumption to resuscitate and carry it—in tetrameter couplets, on a voice that seems, at once, of another era and utterly contemporary: bawdy tales, philosophical questions, jokes, prayers—the heart's truth. This is country in the way that Twain and Faulkner were country, and if you miss the high art of it all or the elegiac underpinning, check your pulse. This one's for the ages." —Rodney Jones, author of Salvation Blues

or
Not Currently Available for Direct Purchase