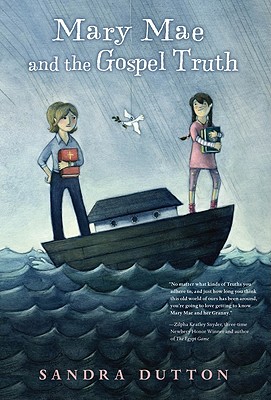 Mary Mae and the Gospel Truth (Hardcover)
Houghton Mifflin Harcourt (HMH), 9780547249667, 134pp.
Publication Date: June 28, 2010
* Individual store prices may vary.
or
Not Currently Available for Direct Purchase
Description
Ten-year-old Mary Mae loves to sing hymns with her Granny, go to Sunday School, and learn about trilobites. She has lots of questions about how the earth looked millions of years ago. Trouble is, Mary Mae's mother thinks it's wrong to believe the world is that old. Mama believes God created it six thousand years ago and she believes that nobody should teach Mary Mae otherwise. When Mary Mae starts taking her questions to church, asking how God created the earth in six days or how eight people could take care of animals on an ark, Mama puts her foot down: homeschooling. Mary Mae must decide where her loyalties lie: with science and Miss Sizemore, with God and Mama, or somewhere in the middle.
About the Author
Sandra Dutton grew up the daughter of Sunday school teachers in Ohio. She was as curious about Genesis as she was about the fossils in her backyard. She says, "I wrote this book for kids like me who love discovering things, whether in the Bible, the backyard, or a history book. I want them to have the courage to ask questions." She has two grown sons and lives with her husband in Maine.
Praise For Mary Mae and the Gospel Truth…
"Mary Mae's inquiring mind and keen observational skills get affirmation from her fifth-grade teacher but distress her creationist mother. Refusing to take her pastor's advice to "trust the Bible scholars," Mary Mae ends up with more and more questions as she tries to reconcile the Bible's account of creation with what she's learning in class about fossils and the age of the earth. Eventually, Mary Mae's questioning leads her frustrated mother to yank her out of school to provide Bible-based homeschooling. "Why can't you be my sweet little Mary Mae?" she asks. "It's all so easy if you just believe what the Bible says and don't go asking no questions." Dutton (Dear Miss Perfect) sensitively navigates the sticky debate between creationism and evolution both through the young narrator's delightful curiosity and honest questions, and through the various responses she receives from numerous caring adults, who all strive to provide truthful guidance. Concluding with a pastor's affirmation that faithful people can have different opinions, it's an honest portrayal that respects both viewpoints, as well as those that slot somewhere in between."--Publishers Weekly, starred review 


"Very few books for this age group tackle religious subjects as this one does, in a way that shows respect for all sides. Dutton allows Mary Mae to retain both her questions and her faith; instead of a definitive answer, she shows evolutionists and creationists working to find a small, shared piece of middle ground. Mary Mae is a memorable character--spunky but not defiant--whose search for truth drives the narrative."--
Kirkus Reviews


"This is a great story with valuable lessons. Told in an Appalachian dialect, it not only depicts real feelings about religion, but also shows the people behind them as good. It is both a lovely coming-of-age story and a lesson in respect between religion and science."--School Library Journal
Advertisement