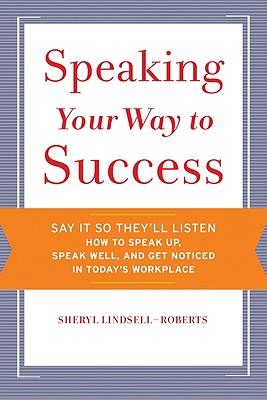 Speaking Your Way to Success (Paperback)
Houghton Mifflin Harcourt, 9780547255187, 272pp.
Publication Date: April 21, 2010
* Individual store prices may vary.
Description
In Speaking Your Way to Success, Sheryl Lindsell-Roberts draws on 25 years of experience as a business communications expert to deliver straightforward guidelines for today's professionals on how to speak powerfully and effectively. Whether talking in front of a large group or engaging in a one-to-one conversation, this book will help anyone to speak up, speak well, and get noticed.
Chapters include:
-- Making Introductions
-- Developing Listening Skills
-- Using Politically Neutral Language
-- Interviewing and Being Interviewed
-- Speaking in Public
-- Communicating Cross-Culturally
-- Harnessing the Power of Today's Multigenerational Workforce
In her signature no-nonsense style, Lindsell-Roberts shows speakers how to pay attention to their audience, support their words with body language, interject stories the audience will relate to and enjoy, encourage audience interaction, and more.
This book is packed with specific suggestions that can be applied immediately on topics such as giving and receiving compliments, keeping a conversation going, asking for a raise, and cold calling. There are strategies for introducing yourself when you don't know anyone at an event, techniques for initiating conversation, and a checklist for rating your listening skills. Lindsell-Roberts also has a proven, no-fail attack plan for how to work a room.
Stop lurking quietly in the shadows and start speaking your way to success!


About the Author
SHERYL LINDSELL-ROBERTS runs business-writing and e-mail seminars throughout the country and is the author of twenty-three books, including the popular Strategic Business Letters and E-mail, Mastering Computer Typing, Revised Edition, and 135 Tips for Writing Successful Business Documents.