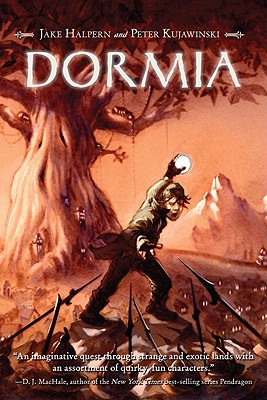 Dormia
Paperback

* Individual store prices may vary.
Other Editions of This Title:
Hardcover (5/4/2009)
Description
Introducing Alfonso Perplexon, hero of the epic fantasy tale Dormia!

Alfonso Perplexon is an unusual sleeper. He climbs trees, raises falcons, even shoots deadly accurate arrows, all in his sleep. No one can figure out why.
Then one evening a man arrives at Alfonso's door, claiming to be Alfonso's long-lost uncle Hill. This uncle tells a fantastical tale: Alfonso's ancestors hail from Dormia—an ancient kingdom of gifted sleepers—which is hidden in the snowy peaks of the Ural Mountains. According to Hill, Dormia exists thanks to a tree known as the Founding Tree, with roots that pump life into the frozen valley. But the Founding Tree is now dying, and in a matter of days, Dormia faces an icy apocalypse.
Dormia's salvation lies with the Great Sleeper, who possesses the special powers to enter a sleep trance and grow a new Founding Tree. Hill suspects that Alfonso is just such a person. In fact, Alfonso's sleeping-self has already hatched this tree. Now the question is: Can Alfonso and his uncle deliver it in time? They must hurry, but they also must be careful not to be followed by Dormia's age-old enemy, the Dragoonya, who are always hunting for one of the secret entryways into Dormia.
Alfonso agrees to take the tree to Dormia, and thus begins one of the greatest adventures a twelve-year-old boy could ever wish for.

As he woke up from a late afternoon nap, Alfonso blinked open his eyes and discovered that he was perched at the top of a gigantic pine tree – some two-hundred feet above the ground. The view was spectacular. Alfonso could see for miles in every direction and he could even make out his house in the distant hamlet of World's End, Minnesota. Unfortunately, there was no time to enjoy the view. The small branch that Alfonso stood upon was covered with gleaming snow and creaked dangerously under the pressure of his weight. Icy gusts of wind shook the entire treetop. Alfonso looked down grimly at the ground far below. If he fell, he would most certainly die.
"Oh brother," muttered Alfonso to himself. "Not again."
Praise For Dormia…
" . . . nonfiction writer Halpern and debut author Kujawinski offer some compelling battle scenes. Alfonso's quest believably demonstrates that the path home can be the most trying."--Publishers Weekly ". . . this is an adventure yarn that takes its time, building mild suspense that does not overwhelm the progress of the tale. It is old-fashioned storytelling, ably done, where action supports story development rather than substituting for it. This fantasy is a wonderful intergenerational read-along and is a strong choice for readers still mourning the end of the Harry Potter books."--Booklist "Middle school students who enjoy a good fantasy romp full of adventure and suspense will enjoy Dormia.  The amusing, colorful cast of characters, the suspense throughout the terrifying journey, the exotic lands, and the ever-evolving powers of Alfonso combine to create a page-turner of a tale.  Put this one on the shelf next to D. J. McHale's Pendragon series or Angie Sage's Septimus Heap books."--VOYA (4Q4P)
Clarion Books, 9780547328874, 528pp.
Publication Date: May 24, 2010
About the Author
Jake Halpern is a journalist and author born in 1975. His book, Braving Home was a main selection for the Book of the Month Club by Bill Bryson and was a Library Journal Book of the Year. He is a contributor to NPR's All Things Considered and This American Life. He has written for The New York Times Magazine, The New Yorker, The Wall Street Journal, Sports Illustrated, The New Republic, Slate, Smithsonian, Entertainment Weekly, Outside, New York Magazine, and other publications. He is a fellow of Morse College at Yale University, where he teaches a class on writing.
When he isn't writing, Peter is a Foreign Service Officer with the U.S. Department of State. He's lived in Israel, Haiti, and France. Peter attended both the Bread Loaf Writers' Conference and the Iowa Writers' Workshop and has published commentary in the International Herald Tribune.
or
Not Currently Available for Direct Purchase