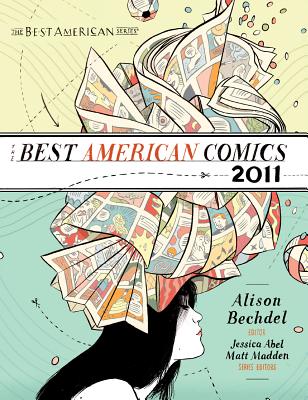 The Best American Comics 2011 (The Best American Series ®) (Hardcover)
Houghton Mifflin Harcourt, 9780547333625, 352pp.
Publication Date: October 4, 2011
* Individual store prices may vary.
Description
"If you have spent a long time resisting the status quo—whether it's in art, society, or the political world—what happens when that status quo at last gives way?
A universe of possibility opens up."
—Alison Bechdel, from the Introduction


Featuring: Gabrielle Bell, Joe Sacco, Dash Shaw, Sabrina Jones, Chris Ware, Jillian Tamaki, Jaime Hernandez, Jeff Smith, Paul Pope, Kevin Huizenga, and others
About the Author
Alison Bechdel is the author of the bestselling memoir Fun Home: A Family Tragicomic, which was named a Best Book of the Year by Time, Entertainment Weekly, New York Times, People, USA Today, Los Angeles Times, Village Voice, and San Francisco Chronicle, among others. For twenty-five years, she wrote and drew the comic strip Dykes to Watch Out For, a visual chronicle of modern life—queer and otherwise—considered "one of the preeminent oeuvres in the comics genre, period." (Ms.)  Bechdel is guest editor of Best American Comics, 2011, and has drawn comics for Slate, McSweeney's, Entertainment Weekly,  Granta, and The New York Times Book Review. 


JESSICA ABEL is the author of the graphic novel La Perdida. MATT MADDEN is a cartoonist best known for his book 99 Ways to Tell a Story: Exercises in Style. Together, Abel and Madden are the authors of Mastering Comics and Drawing Words and Writing Pictures.

MATT MADDEN is a cartoonist and the author of 99 Ways to Tell a Story: Exercises in Style. Together, they are the authors of Drawing Words & Writing Pictures.
Praise For The Best American Comics 2011 (The Best American Series ®)…
"A rich selection of excellent graphic literature in this collection of 26 stories that span the heartbreaking to the hilarious to the just plain oddball."
--USA Today"This year's guest selector, Bechdel, opens with a terrific introduction that digs into the sense of awe felt by many underground vets on comicdom's recent hyperdevelopment... The picks are a typical mix of heavy hitters in top form (Chris Ware, Joe Sacco, Jaime Hernandez, Jeff Smith), younger art-comics darlings (Dash Shaw, Kevin Huizenga), and a nice smattering of talented newcomers."
--Booklist"Fun Home creator Bechdel selects 27 pieces for this year's Best American anthology, and though a reader can trace her sensibility in some of the entries . . . it's a pleasure to see many odd, gritty selections . . . This year's Best American is a handsome anthology with more than a few welcome surprises."
—Publishers Weekly"Another annual cornucopia of graphic narrative (and comic strips). Whether comics were ever striving for cultural legitimacy, they are now struggling with it—even resisting it—though this year's collection suggests that the range of subject, tone and technique continues to expand. Perhaps no other graphic memoirist has achieved greater acclaim than this year's guest editor Bechdel . . . While much of this work is at the cutting edge of contemporary culture, there is a historical perspective to some of the more ambitious pieces . . .The extended, wordless visual epiphany in 'Winter' is stunning . . . David Lasky shows the greatest range . . . Chris Ware's inevitable selection is brilliant. The state of an art that has yet to reach stasis."
—Kirkus Reviews
or
Not Currently Available for Direct Purchase