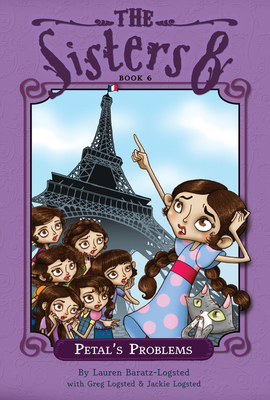 Petal's Problems (The Sisters Eight #6) (Paperback)
HMH Books for Young Readers, 9780547334035, 144pp.
Publication Date: October 4, 2010
Other Editions of This Title:
Hardcover (10/1/2010)
* Individual store prices may vary.
Description
Oh, no. Oh, no. Oh, no. Oh, no! May is almost over and that means only one thing: Petal's month is about to begin. For most people, this would be a good thing. They would look forward to discovering their gift and their power. But not our dear Petal. As far as Petal is concerned, it could stay May forever.
At least the sisters have some excitement in their future: The wedding of Aunt Martha and Uncle George will bring them, the Petes, and the cats to Paris, where fun--and a little bit of danger--will come as surely as the changing of the month.
"Thrills, suspence and hijinks should satisfy adventure-seeking young readers." Kirkus Readers
About the Author
Lauren Baratz-Logsted has written books for all ages. Her books for children and young adults include the Sisters Eight series, The Education of Bet and Crazy Beautiful. She lives with her family in Danbury, Connecticut.
Praise For Petal's Problems (The Sisters Eight #6)…
Praise for Annie's Adventures:
"Baratz-Logsted's tales of thrills, suspence and hijinks should satisfy adventure-seeking young readers."--Kirkus Readers
What the kids are saying about the Sisters Eight:
"The Sisters 8 is really suspenseful and funny. I can't wait for the next one!"--Indrani Kharbanda, age 10
"I love the Sisters 8 series because I love mysteries. My cousins, friends, and my sister and I like to play the Sisters 8 and we are each a different sister. I also like that the sisters are 8 years old like me." -- Claire Williams, 8 years old
"I like it! My favorite part [in Annie's Adventures] is when they go to the toy store."--Ian Richardson, age 5