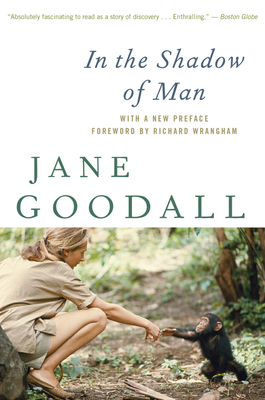 In The Shadow Of Man
Paperback

* Individual store prices may vary.
Description
World-renowned primatologist, conservationist, and humanitarian Dr. Jane Goodall's account of her life among the wild chimpanzees of Gombe is one of the most enthralling stories of animal behavior ever written.

Dr. Goodall's adventure began when the famous anthropologist Dr. Louis Leakey suggested that a long-term study of chimpanzees in the wild might shed light on the behavior of our closest living relatives. Accompanied by only her mother and her African assistants, she set up camp in the remote Gombe Stream Chimpanzee Reserve in Tanzania.

For months the project seemed hopeless; out in the forest from dawn until dark, she had but fleeting glimpses of frightened animals. But gradually she won their trust and was able to record previously unknown behavior, such as the use—and even the making—of tools, until then believed to be an exclusive skill of man. As she came to know the chimps as individuals, she began to understand their complicated social hierarchy and observed many extraordinary behaviors, which have forever changed our understanding of the profound connection between humans and chimpanzees.

In the Shadow of Man is "one of the Western world's great scientific achievements" (Stephen Jay Gould) and a vivid, essential journey of discovery for each new generation of readers.
Praise For In The Shadow Of Man…
"Apart from its enormous scientific value, IN THE SHADOW OF MAN is absolutely fascinating to read as a story of discovery . . . The whole book is enthralling." Boston Globe

"I can't imagine a more vivid or unexpectedly moving introduction to chimpanzees in the wild than Jane Goodall's." -- George Stade The New York Times

"Jane Goodall's work with chimpanzees represents one of the Western world's great scientific achievements." -- Stephen Jay Gould

"An instant animal classic." Time Magazine —
Mariner Books, 9780547334165, 400pp.
Publication Date: April 7, 2010
About the Author
JANE GOODALL continues to study and write about primate behavior. She founded the Gombe Stream Research Center in Gombe National Park, Tanzania, and the Jane Goodall Institute for Wild Life Research, Education, and Conservation to provide ongoing support for field research on wild chimpanzees. She is the author of many books, including two autobiographies in letters, Africa in My Blood and Beyond Innocence. Today Dr. Goodall spends much of her time lecturing, sharing her message of hope for the future, and encouraging young people to make a difference in their world.